Our Patron
Professor Fiona Stanley AC FAA FASSA
'I am delighted to be Patron of Franklin Women. Rosalind Franklin did not share the Nobel prize for the discovery of the structure of DNA, although her research was crucial. I love the idea that Franklin Women will work to encourage and support women in health and medical research so that we can make the best contributions to this important field of human endeavour. Women now make up more than 50% of all biomedical graduates but the challenges are significant for them to succeed at the highest level.'
                                                                                        Professor Fiona Stanley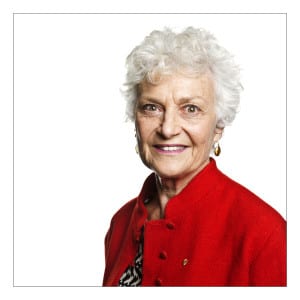 For Fiona, health and medical research is in her genes. Her father, Neville Stanley, was a medical researcher in the field of infectious diseases and vaccines (in particular, Polio vaccine research) who went on to be the Foundation Chair of Microbiology at the University of Western Australia. Fiona's career started in Western Australia as a doctor  where she developed a passion for population health and epidemiology, particularly through her work with local indigenous communities. This passion for medical research took her around the world including time at the London School of Hygiene and Tropic Medicine in the United Kingdom and the National Institute of Child Health and Human Development, National Institutes of Health in the United States.
Once back in Australia she continued her research in the area of childhood diseases, which over the years broadened to encompass the social determinants of health (i.e. social, economic and political factors impacting health outcomes) and how looking at a community holistically can lead to the prevention of illness and disease. Her most important methodological legacies are the development and sophisticated use of total population linked data sets, cohort studies and special disease registers such as those of birth defects and developmental disorders. An example of this is her seminal research, with Professor Carol Bower, demonstrating the association between folic acid intake during pregnancy and the development of neural-tube defects, such as spina bifida, in the infant. They then pioneered the worlds first preventive program. She is devoted to improving Aboriginal child health and Wellbeing and has trained many Aboriginal PhDs.
In 1990 Fiona founded the Telethon Institute for Child Health Research, a leading health and medical research Institute in Western Australia. After more than 20 years as Director she has now retired and assumed the role of Patron.  She is still actively involved in research projects at the Telethon Kids Institute and holds positions as a Distinguished Research Professor at the University of Western Australia and Vice Chancellor's Fellow at the University of Melbourne.  She continues to advocate for cross-disciplinary and translational child health research for the benefit of the community.
Over the course of her career Fiona has mentored many women in the health and medical research field.  She has experienced first hand the challenges experienced by women forging careers in this field and is a wonderful example of a female leader who is committed to opening doors and providing opportunities for other women who are on their way up. You can read more about the importance of mentoring to Fiona here.
Her contribution to health and medical research field but also to the health of women and their children in Australia and beyond has resulted in Fiona being acknowledged with a number of awards and accolades (we can't help but list some below!). Franklin Women is honored to have Fiona as our Patron. She is an intelligent, kind and strong woman who we are proud to have represent our organisation and our members
Scientific Awards & Honorary Doctorates
WHO Fellowship: Teaching Seminar on Cardiovascular Epidemiology, France (1973)
WHO Fellowship: Teaching Seminar on Biostatistics & Epidemiology in Cancer Research at IARC, Lyon, France (1974)
NH&MRC Fellowship in Clinical Science (to pursue Post Graduate studies in UK and USA) (1975)
Fellow of the Royal Australian College of Physicians (1994) (Hon)
Fellow-addendum of the Royal Australian and New Zealand College of Obstetricians and Gynaecologists (FRANZCOG) (1995).  In 1998 the Royal Australian College of Obstetricians and Gynaecologists amalgamated with the Royal New Zealand College of Obstetricians and Gynaecologists to form the FRANZCOG.
Fellow of the Academy of Social Sciences in Australia (FASSA) (1996)
Honorary Doctor of Science (Hon DSc), Murdoch University (1998)
Honorary Doctor of the University (Hon DUniv), Queensland University of Technology (2001)
Fellow of the Australian Academy of Science (FAA) (2002)
Honorary Fellow of the Royal Australian College of General Practitioners (Hon FRACGP) (2004)
Honorary Doctor of Medicine (Hon MD), University of Sydney (2005)
Honorary Fellow of the Royal College of Paediatrics and Child Health (UK) (Hon FRCPCH) (2006)
Honorary Doctor (Hon MD), University of Melbourne (2008)
Honorary Bragg Member, Royal Institution of Australia (2009)
Honorary Doctor of Science (Hon DSc), Edith Cowan University (2010)
Hon Doctor of Laws (Hon LLB (honoris causa) University of Melbourne (2012)
Honorary Doctor of Science (Hon DSc honoris causa), University of Queensland (2013)
Doctor Honoris Causa, KU Leven (2014)