We are handing over our blog to women working in the health and medical research field so they can share their personal and professional stories with us. This is a way to get to know other Franklin Women, learn about different health and medical research related careers (not just academia!) and promote the great contributions women make to the health and medical research field every single day! We will also use our blog as a way to share with you other important tit-bits as they come our way.
To see posts made by each of the authors, click on their name from the list to the left.
Meet Megan Capriccio! Co-Founder of FemTech Collective Australia and Advisor to Future of Femtech. Here she talks about how her role as an entrepreneur, product manager and business consultant helps women have more control, particularly when it comes to health.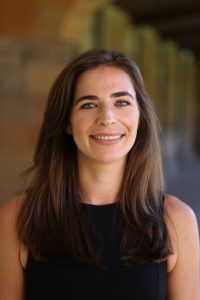 What is your current role and how did you get to be there? I am the Co-Founder of FemTech Collective Australia and Advisor to Future of Femtech. 
My background did not originate in health. I came to Sydney in 2015 to do a Masters in International Relations with my research focusing on the rights of women on the global stage. I soon realised that in a world where men make up most of the world's leaders, there is no way that women, and especially their health, would be taken seriously, especially in times of crisis. I soon realised that technology can support women's health where governments have failed and quickly became involved in the women's health technology and innovation space.
Which is how I came to find FemTech – a term which encompasses tracking and monitoring applications, medical devices, wearable innovations, direct-to-consumer products and more that support women on their health journeys. I launched FemTech Collective Australia in mid-2019, and since then, we have seen a growing interest in FemTech throughout Australia.
How does your work contribute to the field and/or the overall health and wellbeing of the community? My mission is to ensure that women have the proper technology to easily manage and maintain their health. We have found that technology allows women to have agency over their realities as well as find community on their health journeys. FemTech Collective approaches this mission as a key resource and support service for the FemTech ecosystem throughout Australia so we can grow the industry as a whole.
I also consult for Founders and the FemTech ecosystem in Australia to ensure the best quality and evidence-backed technology is created to support women's health. You can learn a bit more about my work from the FemTech debate and the status of FemTech in the APAC region.
What is a project you would love to get off the ground or a skill you would like to develop, if you had the opportunity? Now FemTech Collective Australia is 12 months old, and we have a team of five, I am excited to expand our educational events and promotional opportunities, and to provide more strategic networking opportunities, mentorship programs and investor relations services to help grow the future of women's health technology in Australia.
I would also love to establish a FemTech Fund for Australia-based companies. Funding for this tech category is very sparse and a dedicated fund would ensure the growth of the ecosystem.
What are your loves outside of work? I'm an avid hiker and beach volleyball player. I also enjoy reading non-fiction and listening to the Guilty Feminist Podcast (highly recommend!). I just finished Emily Nagoski's book entitled Come As You Are and learned more about female biology and sexuality than I ever did from a textbook.
What is one piece of advice you could pass onto others following their own career in the health and medical research sector? Feeling you are beyond your depth is the perfect opportunity to educate yourself. Drown yourself in the literature until you are confident.
You can keep up to date via our community newsletter or feel free to reach out directly