I hope Monday's post gave you a quick insight into science policy and where there are opportunities for scientists to provide input, either through formal or informal channels. In today's post I thought I could share a little about what I do day-to-day as Senior Research Officer in the Policy Team at the National Centre for Immunisation Research and Surveillance (NCIRS).
My role at NCIRS involves many tasks, all that are very different from those I carried out in my previous life as a medical research scientist (though to be honest, much of the thought processes are the same). The main responsibility of our team is to provide research and technical support to the Australian Technical Advisory Group on Immunisation (ATAGI). ATAGI is a ministerial advisory body that reviews the most contemporary evidence on immunisation and provides independent advice on immunisation to the government. This most often relates to advice on the Australian National Immunisation Program that provides many vaccines for Australians free of charge (it is one of the most comprehensive programs in the world btw). The previous ATAGI chair Professor Terry Nolan wrote a great paper explaining processes for immunisation policy in Australia, including the role of ATAGI and NCIRS - google scholar "Nolan, Terry M. The Australian model of immunization advice and vaccine funding. Vaccine 28 (2010): A76-A83".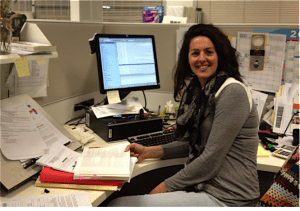 Let me give you an example of one of the projects I worked on when I started at NCIRS as a very green policy researcher. A few years before I started, Australia had launched their National Human Papillomavirus (HPV) Vaccination Program for girls/young women, but at the time, new clinical trial data had emerged demonstrating the vaccine was safe and effective in males. This new evidence led to the policy question of should the National HPV Vaccination Program be extended to include males, and if so, what ages? how many vaccine doses? will a booster be required etc etc etc. As one of the NCIRS team members providing technical support to the ATAGI HPV Working Party, it was my task to review, synthesise and appraise the available evidence (published, grey literature and in-confidence) that would answer these questions. This was done by carrying out systematic literature reviews (with the assistance of an amazing medical librarian, Catherine King, who is also a Franklin Women member).  Systematic reviews are a research method that is regularly used to inform clinical questions. Unlike traditional narrative reviews, systematic reviews aim to comprehensively review all relevant studies relevant to a clinical question, critically appraise the study quality and synthesis/interpret data identified. The National Health and Medical Research Council publish guidelines on how to systematically identify and review evidence. Our team published a narrative review article summarising the different policy considerations relevant to extension of the HPV vaccine program in Australian in Lancet Infectious Disease (woo hoo!). Available here if your uni/institute has access. The HPV vaccine program in Australia has since been expanded (from 2013) to include free vaccine for adolescent boys and girls. A good example of where research lead to change in public health policy!
There are a number of other projects that I work on, such as the preparation of resources for immunisation providers on vaccines and vaccine preventable diseases. I am also the assistant technical editor of The Australian Immunisation Handbook, which is the National immunisation guidelines used by those who administer vaccines. When required I can take on ad-hoc epidemiological research projects, for example analysing hospitalisation and death data.
After nearly 5 years in this role I have learnt so much and have developed a real interest in public health policy. I would be lying if I said there weren't things from the lab I didn't miss, however there are many that I don't. See below my list of likes/not-likes for my current job! The most daunting part for me was coming to the realisation that I was ready to move on from the lab and figuring out where I could go that would utilise the skills and knowledge I had acquired through my years of science training as well as the other personal skills I had that weren't being utilised in the lab. But more about that next blog….
LIKE
Seeing your work translate into public health benefit
Interacting with lots of different stakeholders (buzz word!), from nurses/doctors, government officials, experts, vaccine companies
Working on so many different diseases, vaccines, research questions
Translating complex science into resources for those who deliver vaccines
Learning about risk communication - a personal interest of mine that is very relevant when communicating about vaccines to members of the public.
Having a stable position that doesn't rely on research outputs e.g. papers!
NOT SO MUCH
Sitting down at a desk all day (and eating at your desk, sometimes!) is hard to get used to
Learning how to know a little about a lot rather than a lot about a little (eg your PhD!)
Coming to terms with not having your own research project and publishing reports without your name as the author
The external factors that impact your work load that you cannot plan for (governments are even more unpredictable than group A streptococcal opsonisation assays!)
The Franklin Women blog will be used as a platform for members to share what it is like to spend 'a day in their shoes'. This is a great way to showcase the different careers women trained in health sciences pursue and how they got there. So, I am going to start the ball rolling...
My name is Melina Georgousakis and I am a Senior Research Officer in the Policy Support team at the National Centre for Immunisation Research and Surveillance (NCIRS). Before joining NCIRS nearly 5 years ago, I was a PhD student, then post-doc, at the Queensland Institute of Medical Research (but I will tell you a bit more about that in coming blogs). I am also the founder of Franklin Women, which has resulted in a slight addiction to caffeine. You can read more on how Franklin Women (and the coffee addiction) came about in a recent blog I did for Women in Science AUSTRALIA.
For the last three days I have been in NZ attending the first Science Advice to Governments Conference so I thought I would use my first blog post to briefly introduce the concept of science policy. So, what is it? Science policy relates to the forming of public policies for issues underpinned by science. Examples include the development of policies for immunisation (my field), climate change, coal seam gas etc. As policies are part of the political process, many considerations inform their development. For science policies one of the main considerations (in most cases!) is the current scientific evidence on the issue at hand. The aim of the conference in NZ was to talk about the processes, mechanisms and challenges associated with providing advice on scientific issues to government and where the practice of evidence based science policies can be improved. Attendees included many of the players who provide science advice to governments including formal science advisors (eg Chief scientists), scientists and policy makers/analysts (those who turn the evidence provided by scientists into policies). You can see from the conference program the breadth of the topics discussed and also the sentiments expressed by participants in the conference blog. However, I have noted a few take home messages that resonated with me as a basic research scientist who now carries out research that informs health policies:
There are many different mechanisms that offer opportunities for scientists to provide advice to governments. In Australia these are within government (chief scientists, science bureaus, government research institutes) and external to government (advisory bodies, commissioned research, consultations/submissions). A great overview can be found

here

.
There is a difference between science for policy (research that informs the development of policies) and policy for science (policies that are put in place to better the science sector).
Clear communication of science is important. For me, this resonated a lot and I think an area we scientists/researchers can do better. Ensuring we clearly communicate our research, and what it means in terms of the bigger picture, increases the likelihood that our research is understood and in turn has impact (where did this idea come from that if we throw around really big words it adds value to our work?).
Collaboration between scientists and politicians is necessary. To get the most out of these interactions both parties need to show understanding, respect and empathy for the context within which the other works.
Their needs to be more scientifically trained professionals providing science advice to Governments, both in and outside of Government settings. Throughout the conference examples of successful policy internships and graduate programs for scientists in place overseas were discussed as well as how similar programs could be built in Australia.
There are also two non-science take home messages from the conference I need to share….
One. Women are grossly underrepresented in the science policy space. Never before have I entered the room of a conference and the first thing that I noticed was that I was a women. The majority of participants were men over the age of 50 and few of the 5 panels included women. Why? Probably a few reasons like the fact that individuals typically take on science advisory roles later in their career (and we know women are underrepresented at the top in science due to a number of systematic/cultural reasons); and stereotypes around the type of person someone needs to be to work in politics. The good news is that numerous people in the audience (women and men) brought this to the attention of the conference organisers and I am sure it won't be the same next time!
Two. I found my new science hero in Professor Anne Glover. I must have been living in a box for last 5 years as I didn't know who she was until she delivered her plenary "1000 days in the life of a Chief Scientific Adviser". Anne is a molecular biologist and still has an academic position at the University of Aberdeen (as well as an honorary position at UNSW!). She was appointed the first Chief Science Advisor in Scotland in 2006 and in 2010 become the Chief Science Advisor to the President of the European Commission. As she delivered her plenary Anne was refreshingly honest, passionate, engaging and accessible. All these qualities did not take away one bit from the fact that she is intelligent, strong, and resilient, and can hold her own in a male dominated field.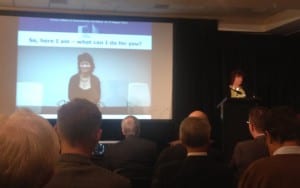 Below I have listed links to fellowships for scientists to gain experience in science policy that are available overseas. I am yet to come across something similar in Australia (please let me know if you know of something). However, many Australian universities offer graduate programs in either public policy in general or health policy specifically. Personally, I completed a master of public health with a focus on health policy. But I will tell you more about my journey into health policy in my next blog.
As I mentioned in my last blog, I was a medical research scientist in my previous life. After completing a science degree at UQ, the natural progression for me was to shuffle through the honours-PhD pathway (is there any other??). I didn't mind because I only liked science and I had no idea what else I would do anyway. To be honest, I didn't really even know what a PhD entailed when I started it. But nevertheless, thanks to a relatively successful honours project in a great lab, led by a supportive lab head, I decided to embark on a PhD researching novel vaccine strategies for group A streptococcus  (a bacterium which causes a sore throat, but also some nasty invasive infections and post-infectious sequelae).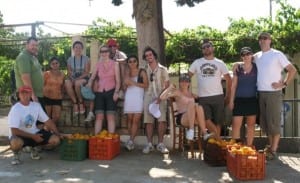 My PhD took four years to complete and I was very fortunate to have some wonderful highs (and some pretty crappy lows...why is biology so unpredictable?). The highs included being part of a team who's research had the potential for bigger picture public health impact. The scientific endeavour of wanting to understand how things work wasn't enough to keep me motivated, I needed a project that had wider applicability and mine did. Also, being based off-campus at the Queensland Institute of Medical Research made me feel less like a student and more part of the real word. I loved the people in our lab. Our work environment was fun, we worked hard but played a lot and my lab mates became extended family to me. I was also very lucky to receive some funding through the Cooperative Research Centre for Vaccine Technology and through them I was exposed to different opportunities such as their sabbatical program. As part of this program I took three months of out my PhD to gain experience in a science related job outside of academia. I took the opportunity to work at a local science communication company which gave me new skills, new connections and opened my eyes to other ways to make a contribution to the health and medical research field. I brought back with me a passion for science communication and health advocacy wanting to share with anyone and everyone the amazing stuff scientists do on a day-to-day basis.
I remained in my PhD lab for a year or so as a post-doc which took me to India for a month (where I ate my body weight in masala dosas). It wasn't long after when I stated to think seriously about what I was going to be when I grow up. I was faced with the decision, do I jump on the NHMRC grant bandwagon or do something else? It took a lot of soul searching for me to decide that I didn't want put in a grant (ever), even thought this made me feel like I was a failure scientist. What made it even harder was that I felt that all my peers were thinking the same thing about me. But I could see there is no way that all of us early career researchers could progress through the grant system and end up successful lab heads. That was just reality. While I loved the science and would have liked to try my hand at a academic research career, I felt I had other skills which I could combine with my science know-how in my next job. I thought that making the decision was the hard part, but next I had to find what that next job would be. I had my non-negotiable (it had to be in infectious diseases/immunisation) but otherwise I was keen to see what was out there. I put lots of feelers out and after 7 months of looking I was asked to Sydney for an interview at NCIRS and shortly after started there as a Research Officer (you would know all about what I do at NCIRS from my last blog post...).
Am I glad I made the jump? Yes... was it scary? Hell yes. But sometimes you have to follow your heart and have faith you'll end up on the right path. I've come to the realisation that what is right path for you, isn't necessary the right path for everyone else, and that is ok.