We are handing over our blog to women working in the health and medical research field so they can share their personal and professional stories with us. This is a way to get to know other Franklin Women, learn about different health and medical research related careers (not just academia!) and promote the great contributions women make to the health and medical research field every single day! We will also use our blog as a way to share with you other important tit-bits as they come our way.
To see posts made by each of the authors, click on their name from the list to the left.
Meet Dr Erin McGillick! A NHMRC Early Career Research Fellow focussed on investigating the effect of pregnancy complications on fetal lung development and identifying ways to improve the transition from fetal to newborn life.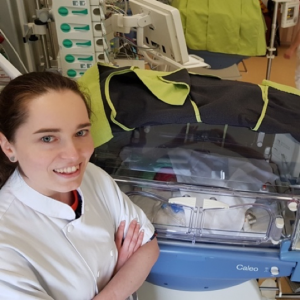 What is your training in the health or medical science field? I'm a very proud Adelaidean, completing both my undergraduate and postgraduate study at the University of South Australia. I trained as a medical scientist, completing my Bachelor of Laboratory Medicine in 2012. During my honours year, I focussed on investigating the effect of pregnancy complications on fetal lung development, particularly understanding how preterm birth, maternal obesity and maternal diabetes affects lung development at the molecular level. A field of research I continued in to complete my PhD (2012-2016). As part of my PhD research, I also had the amazing opportunity to work at the University of Cambridge to gain a greater understanding of the effects of severity and timing of chronic hypoxia during pregnancy on lung development.
What is your role and how did you get to be a research fellow at The Ritchie Centre? Upon completion of my PhD in 2016, I was recruited to The Ritchie Centre (Hudson Institute of Medical Research and Monash University) in Melbourne, which is Australia's leading perinatal research centre. During my honours and PhD, I had closely followed the fascinating research being undertaken in The Ritchie Centre and I had established networks with their researchers while attending conferences, so it was the perfect fit to expand my research focus as a postdoctoral fellow. In my current position, I'm able to bring together a strong background in molecular, structural and functional aspects of fetal and newborn physiology to identify mechanisms and interventions to improve the transition from fetal to newborn life. My research is currently supported by a NHMRC Early Career Fellowship.
What is one of your favourite projects you are currently working on? An absolute highlight of my research is synchrotron imaging studies both in Australia and Japan. The synchrotron accelerates electrons close to the speed of light, producing X-rays one million times brighter than the sun, which allows us to see what is happening in the lungs from the first breath in our pre-clinical models. The knowledge from these studies can then inform clinical trials to improve outcomes for newborn babies. This work will also progress to a clinical trial to implement interventions in the delivery room to reduce the risk of babies developing this condition, which I am very excited to be a part of!
What are some of the major 'outputs' from your work? I have published 21 peer reviewed articles on factors regulating normal and abnormal fetal lung development, maternal diseases affecting the newborn and understanding factors regulating the transition from fetal to newborn life.
I absolutely love science communication and getting the opportunity to share my research with others. I have had the opportunity to present my research at over 50 occasions, at national and international conferences, which has given me the chance to travel internationally to the UK, Italy, USA and Canada. One of the most rewarding experiences was having the opportunity to run a delivery room audit workshop integrating my knowledge of fetal/newborn physiology with observations from the delivery room during my time working in the neonatal intensive care unit.
Who do you collaborate with and how did those work relationships come about?I am very fortunate to work as part of a large multidisciplinary team. My studies involve national and international physiologists, physicists, synchrotron scientists and clinicians. This ensures that we are researching and generating the necessary findings to address the most critical issues in perinatal medicine and that these findings can be translated back into clinical studies to improve newborn outcomes. I absolutely love the diversity and that there is always something to learn or a different way to think about a problem! The biggest highlight to date was having the opportunity to gain international clinical research experience with collaborators working on a clinical trial at a neonatal intensive care unit in the Netherlands. This study was based on some findings from my group's synchrotron imaging studies to improve the transition to spontaneous breathing in the delivery room in premature newborns. During this time, I was incredibly privileged to attend births and work as part of a team caring for the most vulnerable babies in the neonatal intensive care unit.
Do you have any side interests or passions that you are looking to develop? I am passionate about sharing the wonders of science and physiology with others through science communication in any way possible. I particularly enjoyed engaging with the general public as a science curator at 'The Amazing Bodies' anatomy and physiology exhibition. I was fortunate to take part in the Fresh Science program where I won a prize for best science communication by limerick at a public engagement event. I am also focussing on expanding my leadership training, as I work towards establishing myself as an independent researcher in perinatal medicine.
What food have you eaten too much of in your life? Chocolate…I highly recommend Haigh's truffles and mint peppermint frogs!