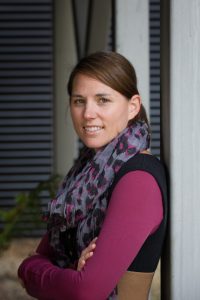 Meet  one of the presenters at next month's Women and Heart Disease Forum, Principal Research Fellow (Lifestyle Medicine and Rehabilitation) and Heart Foundation Future Leader Fellow at the School of Medicine, Deakin University. She writes on her career journey straddling mental health and heart health, and working with her passions
What is your training in the health or medical science field? My background is psychology and public health and I am also a trained Family Violence Practitioner.
Tell us about your current role and how you got to be there? This week, I launched the Heart and Mind Research (HaMR) group, of which I am Director, and commenced my co-appointment as Deputy Director of the Food and Mood Centre at Deakin University in Geelong.
For almost 15 years, I have been researching the link between mental and cardiovascular health, now sometimes referred to as psycho-cardiology. After doing my PhD at Monash University, and an NHMRC ECF at Deakin and Stanford University, I returned home and commenced a Heart Foundation Future Leader Fellowship at the University of Melbourne where I was for 5 years. A big part of my work is investigating the role that lifestyle plays in the onset and outcomes of depression and cardiovascular disease (CVD), both respectively, in relation to each other and when they co-occur.
What is one of your favourite projects you are currently working on? An interesting part of my new position at Deakin will be working with world experts in lifestyle medicine, particularly in psychiatry, like Professor Felice Jacka (President of the International Society of Nutritional Psychiatric Research and founder of the sub-discipline of nutritional psychiatry) and Professor Michael Berk (Director of the new NHMRC Centre for Research Excellence for the Development of Innovative Therapies in Psychiatry). We will be applying what we know works and doesn't work in cardiac rehabilitation and other areas of chronic disease management to the management of common mental disorders like depression. CVD and depression share many risk factors and pathways that are affected by the way we live, so it makes sense to address both in a uniform way. The idea is that if we can prevent the depression occurring in the first place, we will prevent or at least delay the onset of CVD. That's how intricately mental and physical health are linked.
What are some of the major 'outputs' of your work? About 5 years ago, my team and I showed that Australian women with clinical depression have double the risk of having a heart attack or stroke in the following 18 years compared with women without. This is a really important finding because many people – both clinicians and patients – don't recognise poor mental health as being associated with poor cardiovascular health. The good news is that Medicare now subsidises GPs to check a patient's blood pressure, cholesterol, lifestyle factors, smoking status and family history to estimate their risk of a heart attack in the next 5 years. This is a great time for GPs to ask their patients about their mental health in the context of their cardiovascular risk, or for patients to flag any concerns with their GPs, so that they can get help managing their mental and physical health at the same time. This work really kicked off my interest in gender (as a social construct) and sex (as a biological variable) as determinants of cardiovascular health. I'll be speaking about mental and cardiovascular health in women at the upcoming NSW Heart Foundation and George Institute's Women and Heart Disease Forum on June 19.
How do you think your work contributes to the field and/or the overall health of the community? I hope in two ways. I've always straddled psychiatry/mental health and cardiology/chronic disease management, so while sometimes I feel like a fish out of water, I also feel like I can approach things from a different perspective. Being able to contribute to improving the cardiovascular health of people with mental illness, and the mental health of people with cardiovascular disease, is a real passion. I have family members who are affected by both conditions and every day I try and think about them and others who are managing these chronic diseases. Second, as a woman in science – and a privileged one at that – I somehow feel that it is my duty to provide professional opportunities and support to not just other women but those who are less fortunate than I. I guess I try and apply a social justice lens to both my research and mentoring.
Who do you collaborate with and how did those work relationships come about? I look to collaborate with others in the field who show ethical leadership, integrity in their science and people management, and who are just nice and fun people! – Professor Jacka and Berk being two of them. And very talented early career researchers like Anna Scovelle and Emma Thomas, who are emerging stars in public health, are others.
Do you have any side interests or passions that you are looking to develop? I am extremely passionate about improving diversity and equity in science and more broadly across society. We still have a very long way to go, even in public health where it is assumed that because there are large numbers of women these issues are less pronounced than in male-dominated sectors. It is just not the case, from my experience or from what the data show –, which is, of course, why I love the work of Franklin Women!
What food have you eaten too much of in your life? Chocolate. I have a terrible sweet tooth. I'm best to avoid having it in the house at all