Meet Dr Annie Quan! Annie is a Senior Market Access Associate at AbbVie Australia. Here she talks about her career and the role Franklin Women has played in her journey from lab scientist to working in industry bringing new drugs and technologies to market.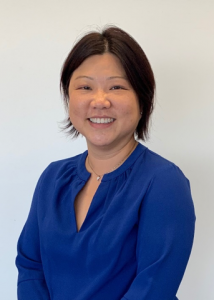 What is your current role and how did you get to be there? I am a Senior Market Access and Health Economics and Outcomes Research Associate in the Market Access and External Affairs Team at AbbVie Australia. My main responsibilities are involved in managing the processes of ensuring that patients can access new medicines quickly and continuously through the Australian reimbursement system.
I completed my PhD in neuroscience at the Children's Medical Research Institute and the University of Sydney and was then awarded an NHMRC Fellowship. During this time, I also completed a Master of Commerce at University of NSW.
My journey to my current role was not obvious from the start of my research career. I was fortunate to participate as a mentee in the Franklin Women Mentoring Program in 2018. The program was pivotal as it created a professional platform for me to critically evaluate the direction of my research career, being a working mum with two young kids, while keeping true to the one continuing driver for my career to date, which has been my passion for making an impact and improving health outcomes, whether through my own research discoveries or witnessing new technologies improve the wellbeing of patients. So, I decided to combine my extensive scientific and research experience with my commercial and business economics training to make the move into Market Access. Fortuitously, at a Franklin Women breakfast event, I connected with my current manager and the insightful discussions guided my decision to transition to my current role. Thank you, Franklin Women!
How does your work contribute to the field and/or the overall health and wellbeing of the community? In my research career, I worked on understanding what goes wrong in brain cell communication and how new drugs work in debilitating neurodegenerative and immunological diseases. I found the greatest impact of my own research work was uncovering fundamental scientific knowledge, just like fitting a few pieces of a giant jigsaw puzzle.
My new career is like moving along the timeline of drug development, now at the final late stage of ensuring new medicines with the greatest health benefits can be accessed by patients in a timely manner.
What is a project you would love to get off the ground or a skill you would like to develop, if you had the opportunity? Market Access is a multidisciplinary skilled profession ranging from research data analysis and interpretation, health economics and policy, pricing and finance, and relationship building. I would love to continue the journey of development, growth and learning by delving deeper into the field of health economics and policy to help determine which technologies bring the greatest benefits to patients.
What are your loves outside of work? First and foremost is spending invaluable time with my wonderful family, my husband and two children. I enjoy travelling and following the food trail, sampling different cuisines from around the world. When I find the time, on the creative side I love cake decorating.
What is one piece of advice you could pass onto others following their own career in the health and medical research sector? Be open to new opportunities and take the risks. When it came to the critical decision-making time for my career, I found that thinking beyond what I already knew from my academic training and work experience, drawing inspiration from a mentor, holding a growth mindset, and reaching out to my support networks helped me make the change and take the 'leap of faith'.