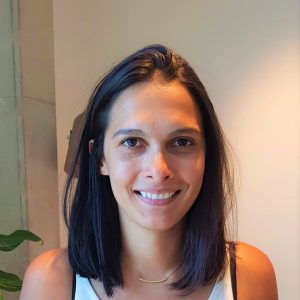 Meet Dr Carinna Hockham! Research Fellow and epidemiologist at The George Institute for Global Health. Here she discusses her recent work on a COVID-19 clinical trial, born out of her usual research area of chronic disease epidemiology.
What is your current role and how did you get to be there? I am a Postdoctoral Research Fellow in the Renal and Metabolic Division at The George Institute for Global Health. I have spent the last 2 years working in chronic disease epidemiology, with a focus on chronic kidney disease and diabetes, and their cardiovascular complications. My research involves the use of innovative trial designs to rapidly generate evidence for treatments in chronic disease, in particular kidney disease. In addition, I conduct observational research using routinely collected health data to understand health service utilisation, evidence–practice gaps and health outcomes in people living with a chronic disease.
Prior to my current role, I did a PhD in spatial epidemiology at the University of Oxford. My first degree was in biology, also from Oxford, and I have a master's in control of infectious diseases from the London School of Hygiene and Tropical Medicine.
How does your work contribute to the field and/or the overall health and wellbeing of the community? In my current role, I have been fortunate to play a key part in the design and development of clinical trials in areas where there is currently no, or very limited, evidence for effective treatments. Knowing that these trials will generate evidence that will undoubtedly inform clinical practice is so fulfilling.
The first trial is one of angiotensin receptor blockers – a common blood pressure medication – for the treatment of COVID-19. We've adopted a range of novel trial features that are befitting to a pandemic, so it will be fascinating to see how it all works out and what we can learn for future trials. This mesh of my current non-communicable disease research and my prior training in infectious diseases has been really interesting for me.
The second main trial I am working on is a global adaptive platform trial to investigate a range of interventions for the treatment of calciphylaxis, a rare but devastating disease that mainly affects people with end-stage kidney disease. At present, there are no proven treatment options for calciphylaxis and so we have designed the trial in such a way to maximise the chances of finding an effective intervention, as quickly and efficiently as possible.
What is a project you would love to get off the ground or a skill you would like to develop, if you had the opportunity? So many things! Right now, my priority is getting the COVID-19 trial off the ground so that we can get the evidence we need as quickly as possible and hopefully provide options to clinicians and patients to help curb the severity of disease. In the medium to long term, I am keen to incorporate a sex and gender lens into my research to better understand differences in disease pathogenesis, treatment responses and health outcomes between sexes and genders. It's an area I find completely fascinating – from both a biological and social perspective – and I would love for it to become standard in my future work. I'd also like to continue building my knowledge and experience of adaptive trial design, as I think it's a really exciting area, particularly in therapeutic areas where conventional trials just don't cut it or where research is lagging.
Lastly, I really want to learn more about the translation of research into clinical practice and health policy. Like how translation actually works – what the steps are, how to first engage with the relevant stakeholders, and the dos and don'ts of influencing policy. I've attended workshops and read up about it but it's obviously not the same as doing it first-hand.
What are your loves outside of work? Most of my joy in life comes from spending time with my family and friends. I love weekends away with a big group or going on hikes with my partner. There are so many amazing places to visit in Australia and we have loved exploring them! I'm also a fan of trying new hobbies, like pottery and candle-making – they aren't something I'd do all the time but it's fun having a go.
I came to the podcast game quite late but my current favourites are The Adam Buxton Show, Off Menu and Grounded with Louis Theroux. I think they remind me of home J.
What is one piece of advice you could pass onto others following their own career in the health and medical research sector? Always be open to learn new things but don't apologise for the things that you don't yet know. If it was meant to be easy, then there'd be no work for us to do!