Meet Dr Amy Vassallo (that's me!), Postdoctoral Research Fellow at the Cancer Research Division at Cancer Council NSW, and curator of the monthly Franklin Women e-newsletter. Many of you have been asking what's next for me since completing my PhD, so here's an update: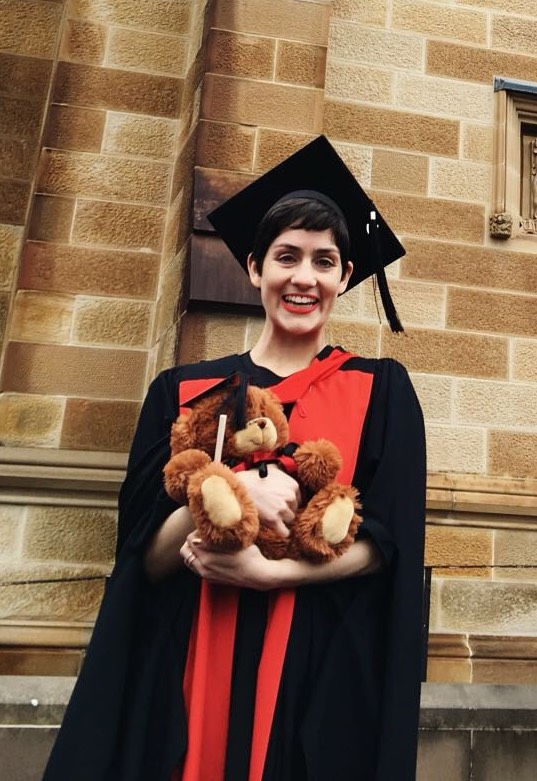 What is your training in the health or medical science field?
My initial training was in science, completing a Bachelor of Medical Science at the ANU. This was great foundational training, but I pretty quickly decided I wanted to try something with a more population-level focus, so I completed a Masters degree in community health. I then worked in public health policy (#Canberra!), which helped me gain such valuable insights into the workings of the health system, and I've drawn on many of these in my research career since then. After working full-time for a couple of years, and wanting to do more research, I enrolled in a PhD in injury epidemiology. I graduated in October 2018 and started my first post-doc in December, which is the perfect culmination of all this training!
Tell us about your current role and how you got to be there?
Just before Christmas I started a new role as a Postdoctoral Research Fellow in the Cancer Research Division at the Cancer Council NSW, working in ovarian cancer. The role will specifically focus on new and emerging technologies for the earlier detection of ovarian cancer, and use microsimulation modelling to develop evidence-based recommendations to decrease the number of women dying from this disease.
Like many others, choosing my post-PhD path was not easy or straightforward. My interest in medical research has never been limited to one specific content area. So I started to think more about the skills development opportunities, working environment and impact of potential post-docs, rather than the area of research. While this position ticked so many of the boxes I was looking for, it certainly was 'outside of the box' in terms of research content. I almost didn't apply, but I wanted to be pushed out of my comfort zone and a mentor of mine reminded me that this is an opportunity to demonstrate the transferrable skills of a research degree. She encouraged me to go for it and I'm so glad that I did. ☺
What is one of your favourite projects you are currently working on?
It's still very early days, but as the founding member of the ovarian cancer research group at Cancer Council NSW, one exciting element of this position is being able to scope out research and project plans. Having this ownership and the opportunity to see projects through from start to finish is quite a special position to be in as an early post-doc. Another key element of this role will be establishing a Scientific Advisory Committee of experts in the field of early detection and management of ovarian cancer, and I'm enjoying getting to know the local researchers and clinicians.
How do you think your work contributes to the field and/or the overall health of the community?
Ovarian cancer is the 8th most common cancer in women in Australia. Every year about 1,400 women are diagnosed with ovarian cancer, and about 770 will die from the disease. Due to vague symptoms and aggressive tumour growth it's often diagnosed at an advanced stage. Over the past decade, little progress has been made in reducing the mortality rate of ovarian cancer, and therefore there is keen interest from clinicians, health policy makers and the community to continue investigating options and technologies for earlier detection of this disease. The initial aim of my research is to understand the potential impact of applying new approaches of existing or emerging technologies in a potential ovarian cancer screening program in Australia, and develop evidence-based recommendations based on the potential costs and benefits of such programs.
Who do you collaborate with and how did those work relationships come about?
The work of Cancer Council NSW crosses the full cancer control continuum, including primary prevention, advocacy, information and support, as well as research. I think these internal organisational relationships are so valuable for keeping our research priorities 'on the pulse' and relevant to the community. We also collaborate with many external academic-based researchers, clinicians and policy makers, through our Scientific Advisory Committees and other projects. My position is somewhat unique in that it was directly funded by a major philanthropic donation, so the opportunity for collaboration and relationship-building with research funders in the community is an element to this position that I'm looking forward to.
Do you have any side interests or passions that you are looking to develop?
The promotion and support of women in STEMM is an ongoing passion of mine, and I enjoy contributing to this space through Franklin Women and having this outlet for some of my more creative visions for our sector. In 2019 I will continue to curate the Franklin Women e-newsletter, and look forward to being blown away each month by the research breadth and talent that exists locally. The new skill I want to start to learn in 2019 is Auslan (yes, inspired by Emma Wiggle).
What food have you eaten too much of in your life?
Hummus, I am basically 95% hummus at any time.