Meet Fontaine Foxworth, Product Manager at Google. She is passionate about building 'humane technology' and, when not building software, is talking about feelings, hosting philosophy nights, salsa dancing or sailing on Sydney Harbour. Below she talks about her career and why she believes EI > AI.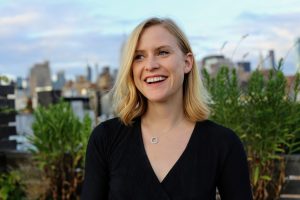 What is your current role and how did you get to be there? I'm a Product Manager at Google – that means I work with a team of software engineers to prioritise and build new features for various software products at Google. Currently I'm working on Blogger, though I've also worked on Google Maps and Google Analytics. Before coming to Google, I worked at an eCommerce site called ModCloth – kind of similar to The Iconic, but in the United States. I studied Civil Engineering (fun fact: I used to work on a construction site!), but I took a computer science course at the end of my degree, and discovered what I really loved was building things with technology, not concrete. I love how quickly we learn, and ultimately how you can apply a computer-science way of thinking to almost any problem you encounter. Most things I've learned about technology have been from the job, not from the classroom. I always find that it's not what you know, it's how fast you can learn. This is a fast-moving industry, and I love how many fields I've gotten to learn about while in it.
How does your work contribute to the field and/or the overall health and wellbeing of the community? Tech deeply shapes how we communicate and learn as human beings, so when I think about 'the community', I think about the society we live in. I have a lot of fears and anxieties about what tech has done to people's ability to communicate and connect (online bullying or social media loneliness are great examples), so I always try to bring mental health and emotional impact of products into the discussion. Looking at mental health or the ethics of what we build isn't part of the traditional job description, but I think it's important nonetheless. One of the communities I've been partnering with over the last year is the Center for Humane Technology, a non-profit addressing the harmful extractive attention economy by inspiring a new race to build humane technology that aligns with humanity.
What is a project you would love to get off the ground or a skill you would like to develop, if you had the opportunity? I want to teach more people emotional literacy skills! I think emotional literacy is at the crux of a lot of challenges we are dealing with as a society today, and I am constantly looking for opportunities for people to develop and exercise these skills. Among these might be active listening, presenting with confidence, naming emotions, social awareness, empathy, etc.
What are your loves outside of work?  I am a big sailor, salsa dancer and reader! One of my favourite things to do is ask people, "what are you reading?" It's a great way to learn about who they are and what they value.
What is one piece of advice you could pass onto others following their own career in the health and medical research sector? Get to know yourself. In a world where computers are starting to know us better than we know ourselves, self-knowledge may become the real differentiator in work and life. You can get to know yourself in a million ways – which one will you choose.