Meet Gal Winter Ziv! Microbiologist and course coordinator for the Bachelor of Biomedical Sciences at the University of New England. She believes that education is everywhere and owes much of her biomedical knowledge to binge watching medical TV shows. Gal will also be presenting at Soapbox Science in Sydney in August (you can read more about this event in our recent June newsletter edition)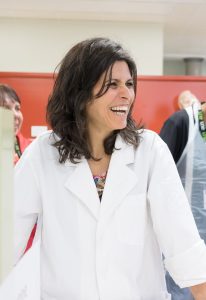 What is your training in the health or medical science field? I have always been fascinated with food and nutrition so I enrolled in a bachelor degree in food science and biochemistry at the Hebrew University of Jerusalem, Israel. Through that I discovered the world of microorganisms and the major role that they play in food preparations and in our bodies. I continued my studies in the field of molecular microbiology and completed a Masters in Food Science and Biochemistry. I then moved to Australia to commence a PhD on wine microbiology at the Australian Wine Research Institute and followed that with a postdoctoral fellowship at the University of Queensland focusing on microbial biotechnology. A few years after, I changed my focus and use my expertise towards biomedical research at the University of New England (UNE) – one of the most satisfying career moves I've made!
Tell us about your current role? I am a lecturer in the biomedical discipline and a course coordinator for the Bachelor of Biomedical Science at UNE. I also run a research program looking into the gut microbiome and its connection with the brain. Transferring from a biotechnological background to a biomedical discipline was a steep learning curve; however, I found that with a strong scientific background, tons of motivation and a very pressing list of deadlines, everything is possible!
What is one of your favourite projects you are currently working on? That's an easy one – understanding the role of the gut microbiome in the development and treatment of mood disorders, such as depression or anxiety. It still amazes me that microorganisms can be related to such mental processes. This is something that not too long ago we would have never conceived as logical and all of a sudden, it is common knowledge. I'm excited to contribute to this understanding and look forward to new developments in the field.
Who do you collaborate with and how did those work relationships come about? I collaborate with colleagues from UNE that specialise in different areas to mine, mainly neurobiology, psychology and immunology. Together we complement each other, which creates an awesome working environment! Outside UNE I collaborate with a bioinformatics expert in Europe that I've met through a mutual colleague. Always happy to create new collaborations – it brings out the best of both worlds.
Do you have any side interest or passions that you are looking to develop? Hmmmm…Professionally I'd like to develop more leadership skills and science communication. On the personal front, I'd like to have more time to do absolutely nothing 'productive' and just BE with my family. I was at a meditation workshop the other day and they asked us to visualise our idea of a 'perfect day'. I realised then that my perfect day had nothing special about it, no exotic vacation or amazing experience. It was just about being at home at ease with my family…I find that life is getting too busy and I'd like to pursue the art of doing nothing!!
What food have you eaten too much of in your life? There are two foods I'm absolutely obsessed with – tomatoes and dark chocolate! I have been obsessed with tomatoes since I was a child and probably eat a few kg per week…raw, cooked, large, small – I eat them all :). My challenge is to combine chocolate and tomatoes in one dish. I've had multiple attempts and they were all pretty disgusting!