Meet Gill Stannard, naturopath, mentor, cancer survivor and advocate. Read on to learn more about her role as a healthcare consumer collaborating with researchers to improve outcomes for women with ovarian cancer.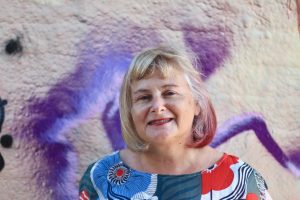 What is your current role and how did you get to be there? I'm a cancer advocate and consumer in research. As the Survivors Teaching Students (STS) program run by the Australia New Zealand Gynaecological Oncology Group (ANZGOG) so eloquently puts it, I gained a 'Personal history of Disease' when I was diagnosed with ovarian cancer in 2013. I'm currently working with three research teams as a consumer, am a member of Consumer Advisory Panel of the Translational Cancer Research Network (TCRN), an STS presenter and a consumer advisor for the Cancer Council NSW Cancer Research Division internal ovarian cancer research program.
I've always had a passion for health and moved to Australia in the late 1980s to study naturopathy, graduating with the freshly minted Diploma of Applied Science and a passion for research. Having an ability to understand medical research isn't necessary as a consumer, but I find it incredibly useful. Prior to naturopathy I gained a political science degree, worked as a research assistant on the Australian Veterans Health Studies into the effects of Agent Orange and at the Anti-Cancer Council in Victoria (as it was previously known).
How does your work contribute to the field and/or the overall health and wellbeing of the community? It's deeply satisfying to know that sharing my experience of ovarian cancer may ultimately improve outcomes for other women with this disease. As a consumer, my involvement is to bring a greater understanding of how proposed research will impact patients. For example, after sharing my experience of chemotherapy with one researcher, they changed the slant of their grant application. I've visited labs, attended team meetings and edited a lot of plain English research summaries.
While most of this work is with individual research teams, one aspect of our work on the TCRN Consumer Advisory Panel is to run a number of workshops every year with TCRN members. These are a bit like speed dating, with scientists and clinicians having 15 minutes to pitch their research to a small group of panel members. We provide feedback about their proposal with fresh eyes. I usually come away from those days exhausted but inspired!
What is a project you would love to get off the ground or a skill you would like to develop, if you had the opportunity? Just one? I've got a pretty big wish list! I would love to be involved with researchers investigating less toxic and more effective first-line treatments for ovarian cancer. The current chemotherapy regime hasn't changed in the past 30 years and still eventually fails at least 70% of women who undergo it. While there are some promising projects focused on disease recurrence, we've got to find a more effective and less debilitating initial response.
Involvement in the STS program, sharing our stories with clinical groups and allied health students, goes part of the way to raising greater clinical awareness of ovarian cancer. But there's scope for research into why most women present multiple times to their doctor before being referred for investigations. Creating effective strategies for earlier detection can save lives now.
And of course, as a naturopath, I'd like to see greater collaboration between CAM practitioners and oncology teams to help our patients minimise the side effects of, and improve recovery from, invasive cancer treatments.
What are your loves outside of work? Meeting interesting people, sharing food and exploring nature. I love travel and am always planning my next adventure (which was supposed to be Scandinavia!). As an ex–food blogger, I'm a bit obsessed about cooking, eating and growing veggies.
What is one piece of advice you could pass onto others following their own career in the health and medical research sector? Get to know yourself. I mentor complementary health practitioners and my biggest advice is to always be authentic. Life's too short to follow a career shaped by other people's expectations. Your gut doesn't lie, it tells you when you're straying off course. Listen! Be brave, follow your passions and carve your own path. We need more mavericks.