Meet Harriet Swearman!! PhD candidate with the University of Sydney and the newest member of the Franklin Women Peer Advisory Group (Student Representative). Learn about her role at FW, her research into fertility, and her love of travelling and the great outdoors (definitely a lot more fun in the Australian climate than her native UK!):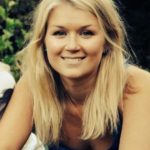 What is your training in the health or medical science field? I completed my undergraduate at the University of Edinburgh in 2009, and a Masters in Assisted Reproduction Technologies (ART) shortly after. Since then I have trained in clinics in the UK and Sydney and am a fully qualified Clinical Embryologist (the person who sits behind those giant microscopes and injects sperm into oocytes to make babies!). In parallel to my Embryologist role, I am currently in the 3rd year of my PhD through the University of Sydney. 
What is your role with Franklin Women, and what motivated you to join? My role within Franklin Women is to make sure the student population is represented. I was thrilled to be given the opportunity to join FW as Women in STEM is something I feel very strongly about. However, importantly in my role as Student Representative, I think it is vital to help students in research degrees understand their options on graduating and how to navigate their way into industry. FW offers a unique platform through which we can help bridge this gap.
What is one of your favourite projects you are currently working on? As part of my PhD, I have had the amazing opportunity to work closely with some of our patients at the fertility centre on a clinical trial. I have been involved in the end-to-end process for this, including writing and securing our ethics license, devising the trial protocol, and recruitment. It has been an invaluable learning curve, and encouraged me to consider more broadly potential roles in industry clinical trial management on completion of my PhD.
What are some of the major 'outputs' from your work? The nature of my work is heavily translational, working very closely with patients, which means I can see the direct benefits of the research being put into practice clinically - through the clinical trial we are trying to improve the fertilization rates for patients undergoing IVF. Besides the human trial, I am also involved in studies using animal models – more specifically, we are looking into the effect of the laboratory environment on organelles inside the oocyte and how this may impact the result of an IVF cycle. As part of this, we have shown the impact of changing pH on the meiotic spindle inside mouse oocytes. The next piece of work will be to understand what the effect of this change to the spindle has on the embryo which is created once the egg is fertilized.
How do you think your work contributes to the health of the community? The impact of our work has a direct effect on those individuals undergoing fertility assisting treatment. The field has broadened significantly in recent years with the introduction of newer sequencing techniques to test embryos in a bid to combat genetic disease, and perhaps more controversially, the potential to edit the genome and remove faulty sequences. It's an area of clinical science whereby ethical consideration already plays a key part, and will increasingly continue to do so given the wide implications on the community.
Do you have any side interests or passions that you are looking to develop? I am a bit of a keen cyclist – a few years ago I took part in Ride Across Britain and cycled from John O'Groats in Scotland to Lands End in Devon, 1580km in 9 days! I loved it and am keen to explore a bit more of Australia by bike (that's if I can persuade my husband to Lycra-up and join me)…
What food have you eaten too much of in your life? CHEESE... any cheese with a nice glass of red wine – perfection!