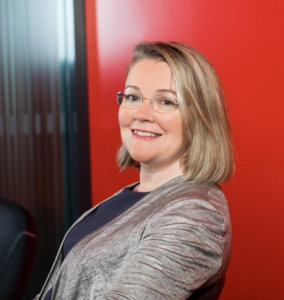 Meet Professor Jenny Martin! The Deputy Vice-Chancellor (Research and Innovation) at the University of Wollongong. She is an avid blogger and a passionate advocate for diversity and inclusion in science and was one of the founding drivers of the Science and Gender Equity (SAGE) initiative in Australia. She will be the guest speaker at our upcoming event In Conversation with Jenny Martin.
What is your training in the health or medical science field? Pharmacy, including a Bachelor degree, Masters and a PhD in protein crystallography. 
What is your current role and what previous key roles have you held in your career journey? I am currently Deputy Vice-Chancellor (Research and Innovation) at the University of Wollongong, and previously Director of the Griffith Institute for Drug Discovery (Griffith University) and ARC Laureate Research Fellow (University of Queensland).
What is one of your favourite projects that you have worked on? DsbA, a bacterial enzyme, has been my constant companion since my postdoc days in Rockefeller Uni, NY; that was more than 25 years ago!
What was one of your most memorable collaborations and how did those relationships come about? About 10 years ago, a collaboration with Defence Science and Technology in the UK came about when their scientists discovered that knocking out DsbA from a bacteria they were investigating rendered the bacteria harmless. The scientists contacted me to see if I would like to collaborate. It so happened that at the time I was on sabbatical in the UK, and simply had to drive down the M34 to meet with them. The collaboration continues to this day. Timing is everything.
What about your career are you most looking forward to sharing with the Franklin Women audience during the upcoming In Conversation event? My shadow CV, which includes the aspects of a track record not usually included in a CV because they weren't successful.
Do you have any side interests or passions that you are currently working on? Walking, baking, pilates, catching up with friends and family, the arts/theatre, searching the world for the ultimate cream tea.
What one piece of advice would you offer a woman following a career in the health and medical research sector? Carve your own path.
What food have you eaten too much of in your life? Vitamin C (chocolate)