Meet Rachel Mudge! Rachel is Head of Research Partnerships at Jean Hailes for Women's Health. She is also mum to two boisterous boys and enjoys weekends full of their sporting commitments, sewing, and squeezing in the odd social event of her own with and without her husband.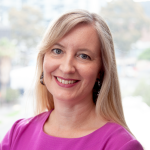 What is your training in the health or medical science field? My formal qualifications are a Bachelor of Science (Hons) and a PhD from The University of Melbourne. My PhD was in breast cancer metastasis to bone, in the lab doing molecular and cellular biology and preclinical models at St Vincent's Institute of Medical Research (SVI) in Melbourne. My husband and I then chose where in the world we wanted to live and looked for opportunities in Paris. I was very lucky to work at the Institut Curie, a big cancer hospital and research institute, on cancer metastasis for nearly 3 years, then returned to SVI. 
Tell us about your current role and how you got to be there? I'm Head of Research Partnerships at Jean Hailes for Women's Health. It's a fantastic, interesting role that combines lots of the skills and knowledge that I've picked up over the years. I'm thrilled to still be involved in medical research and using the expertise I gained as a research scientist, 10 years after I left the lab.
I started in grants administration after leaving benchwork and having had two boys. That grew into a management role including grants management and research integrity and governance. I even did a year as Fundraising Manager, promoting the amazing medical research at SVI to supporters.
It was time for a change though and after about 6 months off, my current role came along at exactly the right time. It was a perfect fit for me, I don't think I could have dreamed it up, so it pays to be open to the opportunities that arise.
What is one of your favourite projects you are currently working on? I'm excited to be establishing the National Endometriosis Clinical and Scientific Trials (NECST) Network. Having had a colourful personal gynaecological and obstetric history myself, including endometriosis and adenomyosis, I have a great personal interest in helping to coordinate the fantastic research around Australia to benefit women with endometriosis. It has been a greatly underfunded area of research, and it's exciting that new funding of $9 million for research through the MRFF was announced following on from the National Action Plan for Endometriosis recommendations.
What are some of the major 'outputs' from your work? This year we have established a Jean Hailes for Women's Health Travel Fellowship program and I have the joy of strategically choosing institutions and researchers to benefit. In turn, we are able to access their expertise for our communications and to disseminate their results to women and health professionals. This will culminate each year in a Jean Hailes Women's Health Symposium bringing together the fellows, their supervisors, and other researchers and clinicians with an interest in women's health, which should qualify as a major output!
How do you think your work contributes to the field and/or the overall health of the community? Jean Hailes is doing fantastic things for the health of Australian women. We are inspired by Dr Jean Hailes herself who said, "If a woman is in good health, her family, community and the society around her also benefit."
Our website is full of evidence-based articles and information on a broad variety of issues, and includes information for health professionals and an anxiety portal. Whoops, feels like I'm spruiking for us now, but you should check it out! Being a part of raising awareness for women's health and promoting collaborations amongst researchers is motivating and rewarding.
Who do you collaborate with and how did those work relationships come about? I have an exciting long list of collaborations as befits my role in research partnerships. We have been approached to be a partner on NHMRC Partnership Grants or Centres for Research Excellence in some cases, and in others we have approached institutions or researchers to work with us. We have great relationships with The George Institute of Global Health, Monash University, the Women's Hospital, University of Queensland, other research institutes and the Heart Foundation – just some examples of the variety of collaborations.
Do you have any side interests or passions that you are looking to develop? Women's health has long been an interest so I'm happy to be developing this passion. I'm also keen to learn more about leadership and enjoy encouraging women in science to find a flexible career path to suit them!
What food have you eaten too much of in your life? Can I say red wine?! Otherwise it'd be cheese, which usually involves the red wine too...