Meet Dr Sarah Best, Postdoctoral Researcher at the Walter and Eliza Hall Institute, who talks on her career to date and the experience of winning the Griffith University Discovery Award in the 2018 Research Australia Awards! Quintessentially Melbournian, she is passionate about a good coffee and brunch. Applications for the 2019 Research Australia Awards are open until July 5 – what are you waiting for?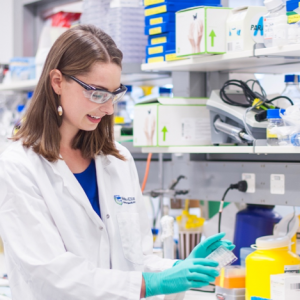 What is your training in the health or medical science field? This could be a really long-winded answer so I'll keep it simple: BSc(Hons), PhD (Medical research).
Tell us about your current role and how you got to be there? I am a Senior Postdoctoral Fellow at the Walter and Eliza Hall Institute (WEHI). It's a bit of a circular story really, because I was a PhD student at the WEHI too. My research focuses on epithelial tumour biology, so I'm interested in cancers that arise in solid organs, their genetics and their cell-of-origin. My PhD research was in breast cancer, then I moved to the USA and worked on non-melanoma skin cancer. When I looked to come back to Australia, it made the most sense for me to come back to the same Division at WEHI, where the research focuses on epithelial cancers and cells-of-origin. I was really fortunate to get a postdoctoral position with Dr Kate Sutherland to investigate lung cancer. All the experience working in these different organs has helped form the way I investigate the lung today, so it's a really nice perspective to come from.
What is one of your favourite projects you are currently working on? I research an aggressive type of lung cancer that currently has no effective therapy. That sounds pretty grim, but it means that every time I identify a new way to treat this type of lung cancer, it can have a real impact for patients. The road from 'bench to bedside' is long, but being part of the initial research that can eventually help people is amazing.
Who do you collaborate with and how did those work relationships come about? I collaborate with a lot of people! There are plenty of cliffs in my expertise that need to be bridged by collaborators who can help me keep my research cutting-edge, clinically relevant and well-informed. That means I work with a lot of other researchers and clinicians. It's important to share that all of my research has been performed not just by myself, but by teams of people contributing their expertise.
Tell us about your experience of winning a Research Australia Health and Medical Research Award last year, and what impact this may have had on your career? It was such an honour to be nominated for the Griffith University Discovery Award last year, let alone to win the award! To be selected in the top two finalists and invited to the awards dinner was just fantastic – I got to bring my lab mates with me and we had such a fun night. Winning the award has definitely helped to publicise my research, and reach out to the broader community. I think importantly it plays a role in validating my research and will always be a key factor in my CV. I find it hard to avoid feeling imposter syndrome, especially as a basic research scientist. The other finalist was doing outstanding research for the community, and as a clinician he was directly impacting the lives of patients. Imposter syndrome can often hold us back from applying for awards, and allowing ourselves to enjoy them if we are successful. So I think it's important to listen to those around us when we're encouraged to apply for these opportunities, and to allow ourselves to be proud of our achievements.
Why would you recommend women of your career stage to nominate themselves, or their colleagues, for awards such as this? Since winning the Griffith University Discovery Award (for early career researchers, within 5 years of PhD completion), I have slipped out of the early career bracket. This is such an insidious event, moving from early- to mid-career postdoc. I feel like it wasn't that long ago that I finished my PhD! I would definitely recommend women to nominate for this award – I know the feeling that if you wait until next year, maybe there is another discovery/publication before nominating for awards such as this. But really, something else is always around the corner and time keeps moving forward! So you have to jump on every opportunity that comes your way.
Do you have any side interests or passions that you are looking to develop? I always have a long list of interests that I would like to spend time on and develop. I have a half-finished letter to the editor, a pile of New Scientistmagazines to read, and I would like to take a course on Indigenous medicines. Good thing I can organise my time at work, because I'm a bit hopeless at home!
What food have you eaten too much of in your life? I am an absolute lover of mushrooms. I would happily have them every day and have even turned an old housemate into a mushroom-hater from all the exposure!