Meet Simran Kaur, a PhD student researching Rett syndrome at the Murdoch Children's Research Institute, and recipient of our Round 2 2019 Carer's Travel Scholarship (congratulations!). Below she talks about her career and how this scholarship has helped its progression: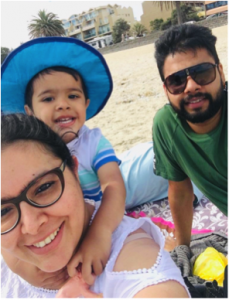 Tell us about your current role and how you got to be there? I was all prepared to be an engineer when I tasted a bit of biology flavour from one of our family friends; so Bachelor of 'Engineering' in 'Biotechnology' (from Panjab University, India) was the best bet for me! I then went on to complete two master's degrees. Later I was welcomed by Prof Kathryn North and the late Dr Nigel Clarke to work with them at the Institute of Neuroscience and Muscle Research. They provided a very supportive environment that matured me into a confident researcher.
Currently, I am (hopefully!) in the last stage of my PhD studies at the Murdoch Children's Research Institute. My constant desire to be involved in research, support and blessings from my parents, and constant guidance from other researchers have helped me a lot to continue my studies. There was a lot of social pressure before and after marriage, but I only remembered my parents saying "Just keep going and never look back".
How does your work contribute to the health and wellbeing of the community? My work is currently focused on Rett syndrome (RTT) which is a severe brain disorder that affects 1 in 10,000 girls and even fewer boys. My work involves a combination of genomics and functional genomic techniques to identify and functionally validate the identified causative gene(s) in RTT patients. As an RTT researcher, I feel blessed to work towards finding the causative gene in these genetically diagnosed cases so as to end their long arduous diagnostic odyssey and pave the way to future specific therapeutics.
Congratulations! You were a recipient of the Franklin Women Carer's Travel Scholarship! Could you tell us a bit more about what that meant for you, your family and/or your career? For some (including myself), life changes a lot after marriage and becoming a parent, especially when you are a student and there is not much help around. Despite all the odds, I was determined to pursue my PhD and take care of my son along the way. But suddenly, when he turned 1, he constantly suffered from extreme breathing problems such that we would turn up in hospital after every 3–4 weeks, including a visit to the intensive care unit. So during the first 3 years of my PhD, I focused on only attending local conferences. But then I got this amazing opportunity to present a poster at the American Society of Human Genetics (ASHG) in Houston, USA. I was also keen to visit my supportive collaborators at the University of Michigan and University of Washington.
The real challenge was to manage the care of my son. It would be challenging for his health to travel to the USA with me, so my husband would have to take unpaid leave from work to take care of our son, which would have been financially challenging for us.
I am so thankful for the support of the Franklin Women Carer's Travel Scholarship that allowed me to focus on the conference and lab visits instead of juggling with day-to-day finances.
What advice do you have for other women in the sector who are juggling primary caring responsibilities with international conference participation? (besides applying for the FW Carer's Travel Scholarship of course!): "Where there is a will, there is a way". The other options that you can try are:
Make a budget and keep an eye on conference travel schemes way ahead of time
Check if your institute/university has a conference carer's travel scheme
Speak with your supervisors to see if they could help
I reached out to the sales representatives of companies that we usually get our bulk products from to see if they would be interested to contribute towards small expenses
I also checked our city council community to see if there was any support for travelling mothers
Approach philanthropic communities
But I strongly feel that we need more institute-wide carer scholarships to help struggling parents to pursue their dreams while taking care of their loved ones. Franklin Women has initiated this effort but other organisations should also join hands as well.
Do you have any side interests or passions that you are looking to develop? I am very keen to develop my skills in leadership and science communication along with volunteer teaching