Our latest addition to the Franklin Women Roving Reporters, Clare Watson, chats to Amee Baird, a clinical neuropsychologist and researcher, about her career journey in the area of music therapy and science engagement (like recently featuring on an episode of Catalyst!).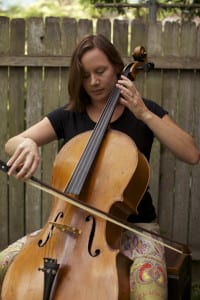 Clare: We've noticed that you've been featured in the news lots recently and you were also invited to join a panel at the World Science Festival in Brisbane earlier this year. What is your current role and what does a normal day look like for you in this role? What have you enjoyed most in your day today?
Amee: Well, it depends on the day because I have two roles; I work two days a week as a clinical neuropsychologist (when I see a patient I will spend four hours with them) and three days a week in research. Today is a research day, which is one of my favourite days, so it's a writing day. I'm trying to finalise a manuscript to submit for publication. Today, because my three kids are at their grandparents, I was able to go and have a swim – I live five minutes walk from a surf beach in Newcastle – so that definitely [has been] my favourite part of today.
Clare: It's always good to start the day off well! Your research is looking into the ability of music to recall memories in dementia patients. When introducing music to patients, do you work with a music therapist, have an enviable collection of classics, or strike up a chord yourself?
Amee: I usually play recorded music or sing – they're the two ways I've done it so far. I haven't actually worked with a music therapist but my research does overlap with the type of work that they do so I'm certainly open to that idea. I played music from a young age. I played the piano and the cello, and a few other instruments in between, but I stopped playing during university and three kids later – you just don't have the time. My postdoctoral position [at Salpetriere Hospital, Paris and Lille University, France] combined those interests and passions of music and the brain (neuropsychology). More...