Our Roving Reporter Clare Watson chats to Janelle Bowden, Founder of Research4Me, Clinical trials professional and advocate.
Clare: Janelle, let's start with your current role, which is an exciting new venture in clinical trials. You have recently founded Research4Me, an organisation reimagining the way the public, researchers and industry come together for better, faster clinical trials. What does a normal day look like for you in this role? What have you enjoyed most in your day today?
Janelle: With Research4Me , I'm on a journey to disrupt the way we run clinical trials, making them more efficient, achievable, and importantly, deliver better treatments quickly. I believe health consumers need to be treated as valued members of the research team, not just these subjects that we collect data from, who we don't involve in what's going on, ask their experience or tell them the results at the end.
I wouldn't say that I have a normal day. Most of what I'm doing at the moment [for Research4Me] is about relationship building. I need to build a relationship with the [health] consumer community because I need to understand what they want, look for and need in terms of support for participation and partnership in clinical trials. Relationships aren't built in a day. You need to build trust with people. I'm also working with industry and researchers running trials to encourage them to consider more consumer involvement. I've been interested in consumer engagement in clinical trials for a number of years and I've been trying to involve consumers in the work that I do. I established AccessCR about ten years ago to start down this path but it got to a point where it wasn't going to grow. I now just provide contract operational assistance for clinical trials through AccessCR. It was a great learning experience and I am using that experience to change how I establish Research4Me. Now I'm actively pursuing relationships with organisations with a common interest to build that.
So, I'm gathering information to direct my business through workshops and reaching out one-on-one to people and organisations to say "This is what I'm interested in doing. Do you have a common interest? Are you involved in research and clinical trials, and what would you need?"
What I love is hearing consumer's stories. It really validates to me why I'm so passionate about clinical trials and why we need to make this an option for more people. Each one of us is a health consumer at some point in time – either for our parents, our children or for ourselves, our friends and family – and we all have our stories. It's those stories that make what we do meaningful. I've work on the industry side of clinical trials for a long time and you are purposefully removed from the patient. You have to keep that line of separation so you get lost in the paperwork, the process, collecting data and fixing queries. The best part for me is being able interact with people, to hear their experiences of a trial so you can learn how we could do it better.
Behind the scenes, I'm also thinking about how I actually build the business – the technology platform, building the website and the online community, the marketing and the IT infrastructure that's going to support Research4Me.
Clare: You held a workshop last year in conjunction with Health Consumers NSW and published a report entitled 'Involving Health Consumers in Health and Medical Research: Enablers and Challenges from a Consumer Perspective'. Can you tell me about the process involved there?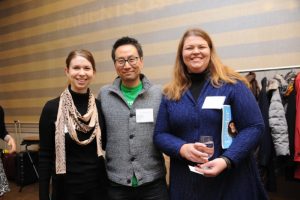 Janelle: The two organisations reached out to consumers and their networks and invited them along to a workshop to talk about consumer involvement in research, particularly in the co-design of research. It was a three-hour workshop. After an introduction from both organisations about what we were trying to achieve, we passed it over to the consumers in a guided way to talk about their experiences in being involved in research and what they thought helped, or what got in the way of them being involved. While it wasn't always easy for people to be involved in clinical trials, it was interesting how well-informed the consumers we had in the room were about the research process and how empathic they were to the challenges researchers have around funding.
For me, the workshop was a perfect example of the value consumers can bring to the table. Sometimes we assume that consumers don't know the science and hence question what value they could bring – and I'd argue that they don't need to. What they bring is their lived experience, which we don't have. The partnership of those two things is where the value lies. More...