Our roving reporter Dr Louise Randall spoke with award winning science teacher, Sharon Williams, to learn about her career journey, what she loves about being a science teacher and tips if you are thinking about a career in teaching.
Louise: You've received an Outstanding Teacher of Science Award. Congratulations! Could you please tell us about your science background before you got into teaching?
Sharon: At the risk of sounding nostalgic, my love of science began as a child. I remember watching The Curiosity Show on TV every week and there used to be little 'Why is it so?' snippets on television. I was drawn to understanding how things worked. I went to a state school in Townsville that had an elective subject in year 9 and 10 called Science, Research and Technology for those kids who really love science. It was great, but for some reason I never thought I was going to be a scientist, rather I was thinking about physiotherapy. But we had a family tragedy in my final year of school and I couldn't bear to move away to study physio and I actually enrolled in Biotechnology degree. I gravitated away from human research as I met too many stressed 'wannabe doctors' and took a few more plant science subjects. By the end of my degree, I'd majored in Plant Biotechnology and Biochemistry. I went on to do a honours project on MADS box genes, which are genes that are involved in switching plants from vegetative to reproductive growth. After honours I didn't feel ready to commit to a PhD without knowing the research area that I loved. So I applied for a job doing tissue culture and genetic engineering in sugar cane at the University of Queensland and then began working on a research project for the next 3 years. This period was a good time to improve my research and technical skills as I looked for the area that I wanted to be an expert in.
Louise: So at what point did you realise you had an interest in teaching and start on the journey to becoming Upper School Science Teacher at Goodna State School?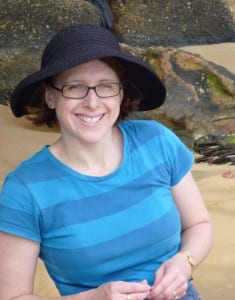 Sharon: It was the unpredictability of grant funding that made me start thinking about teaching. One year there wasn't enough money to fund my position full time so I thought, "Well, I'm pretty good at explaining things, I might as well start an education degree". My husband was also studying part time so we thought it would be perfect as we could both be in the books at night after work! I completed my Bachelor of Education whilst working part time in research and lab management/technical officer roles. I also decided that I was ready to have some babies (just to add another thing into the mix). Over this time I began to become a little disenfranchised by the distance between the doing of science and seeing its impact - I really wanted to see in front of me the impact of my work so teaching began to become more appealing. I finally resigned from the University of Queensland in 2013 and put my hand up to do relief teacher work at local high schools around Goodna, where we had just moved (and still are today). Although I was trained in secondary school science I often thought that I'd love to teach younger kids. Fortunately my first contract was to replace the Specialist Science teacher for 4-weeks at the primary school where my children were studying. The school and the teachers were so great that we proposed that I stay and help take their specialist science program to all the year levels. We now have two specialist science teachers at Goodna State School and I teach year 4 to 6. I ended up with the dream job that catches the age group that I love and the content that I enjoy and the students that I am passionate about reaching. Now I can see the impact of what I do every day. More...