Our Roving Reporter Clare Watson chats to Suzanne Elliott, Operations Manager, Chief Scientific Officer and Deputy CEO, Q-Pharm Pty Limited, about her career journey which started out as a molecular biologist. 
Clare: Suzanne, let's start with your current role. Since 2003 you've been managing Q-Pharm, a private clinical trial site facility co-located within the Royal Brisbane and Women's Hospital and the QIMR Berghofer Medical Research Institute. What does a normal day look like for you in this role?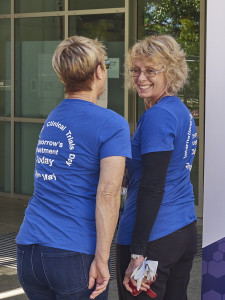 Suzanne: Before I go to work, I go to boot camp – that's my stress release and my time to myself. When I get to work, there's no one typical day but from the prior Friday, I've got the work week mapped out in terms of various meetings. We have standard work meetings for administration and operations. Our weekly Monday administration meeting (which involves our general manager, senior admin assistant, senior project support officer, head of business development, our quality assurance manager and our current interim CEO) is a catch-up on a week-to-week basis. The team gets together to understand what clients might be coming through, what work we've got available and what things we're scheduling. Our operations meeting (which involves our manager of medical services, clinic manager, clinic training manager, my support officer, general manager and our interim CEO) is more an update of what's actually happening in the clinic, if there are any issues – staff, equipment, anything that impacts the conduct of our studies but also future planning and scheduling [of studies].
In terms of the rest of the day, it comes down to what's happening in the clinic. We have between 15 and 20 studies active all at one time, at various stages. Balancing all the various meetings and hosting clients while you're actually trying to do the research as well – that's what I find is the biggest challenge in my role. I have fairly long days. I have to attend client meetings, audits and meet with the clinic team, and then you've got to figure out when you'll get the rest of your work completed.
Clare: By the sound of it, communication amongst all your team members is key!
Suzanne: Exactly. And the thing is attacking [communications] at different levels because people use different mediums to communicate – some people do all emails, some do text. You've got a lot of people who aren't sitting in front of the computer – they're out on the floor. Internally, we put out a "Q-Weekly" newsletter one-page summary in the tea-rooms, have monthly company meetings, have "all of company" emails and department meetings. If possible the personal approach to all departments, my one-on-one – "my rounds" – is where I speak to various staff members regularly to keep fully up to date, as things move so rapidly between projects. More...