Innovation is the new buzzword in the research world. The Australian Government has launched the National Innovation and Science Agenda; the inaugural Medical Research Future Fund strategy is for medical research and innovation and our Chief Scientist often speaks about learning to innovate. But, for most of us researchers the meaning of innovation is vague and conjures up images of young male 'techies' living an entrepreneurial life in co-working hubs.
To help debunk the innovation stereotypes and remind us all of our place in health innovation, no matter our area of research, we are excited to have Petra Andren, CEO of Cicada Innovations, as our guest speaker. She will shed light on what it means to be innovative, the ideal qualities and skill sets for adopting an innovative work culture and the importance of researchers driving innovation in health. Petra will also touch on some of the challenges and opportunities for women in this space. We will also bring together an esteemed panel to lead a fresh discussion about what innovation actually means to them as health and medical researchers, sharing their own experiences and words of wisdom.
With the health research landscape quickly evolving now is the time for us to think about the opportunities to incorporate innovation into our research so that we are not left behind. What better way to do start the conversation than with a room full of amazing women working across the health and medical research sector, at an amazing venue, over delicious food and drinks!
(p.s. a huge thank you to The Powerhouse Museum who is our venue partner for this event)
Presenters
Petra Andren – CEO at Cicada Innovations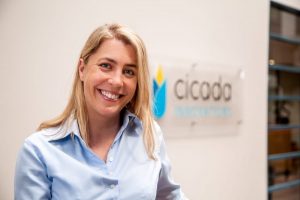 Petra is a multilingual corporate strategist with a proven track record of building and growing tech businesses in Australia, Europe and the US. She is passionate about science based innovation and helping entrepreneurs, working extensively with startup founders and investors turning incredible ideas into successful businesses and beyond.
Petra is experienced in innovation in health. Cicada Innovation runs the Medical Device Commercialisation Training Program for candidates wanting to explore commercialising their intellectual property in the field of medical technologies. Prior to joining Cicada Innovations Petra was the Australian based Managing Director of a global Swiss biopharmaceutical company, Octapharma.  Petra also serves on several boards, lectures entrepreneurship at the University of Sydney Business School and is a business mentor and advisor for numerous business incubator and accelerator programs in the Australian startup ecosystem.
Petra was born and raised in Sweden and is married to a German and the only way this marriage can work is on neutral ground, which currently is Australia. She tries to spend most of her free time with the Australian member of her family – her gorgeous 6 year old daughter Maia.
Our Panel
Bridget Foley – Research and Evaluation Officer, 
The University of Sydney
Bridget is an early career researcher who is passionate about reducing health inequity and creating environments that promote healthy eating and active living. She advocates for young people as drivers of innovation and systems change. Bridget developed a mobile app to encourage university students to "Meet and Move" with support from NGOs, Industry and the University of Sydney. She now works on the Students As LifeStyle Activists (SALSA) program to motivate young people to be agents of healthy lifestyle change in their communities.
Anne O'Neill – Director, NSW Office for Health and Medical Research, Ministry of Health
Anne is a health and medical research professional with over 20 years' experience in the health, medical research and policy sectors. She is responsible for the development of commercialisation, international engagement and philanthropy strategies for NSW health and medical research in order to position NSW as the leading location for research and development.
Anne is passionate about the role of government in building the innovation workforce of the future and developing non-traditional career opportunities for early to mid-career researchers. The NSW Government has invested in a 10 year strategy for health and medical research which focusses on incentivising collaboration and translation, driving commercialisation, and strengthening and building state-wide research assets including biobanking and genomics. However, there is little point to this investment if there isn't a commensurate focus on attracting, developing and retaining talent across the research spectrum to adopt and drive innovation.
Johanna Westbrook – Director of the Centre for Health Systems and Safety Research, Australian Institute of Health Innovation, Macquarie University.
Johanna is internationally recognised for her research evaluating the effects of information and communication technology (ICT) in health care. She has over 390 publications and been awarded > $40M in research grants. Her research has led to significant advances in our understanding of how clinical information systems deliver (or fail to deliver) expected benefits and supported translation of this evidence into policy, practice, and IT system changes. Johanna is currently leading research investigating the role and impact of ICT in the community and aged care sector. In 2014 she was named Australian ICT professional of the year by the Australian Information Industry Association for her research contributions. In 2016 she was appointed by the Federal Minister for Health to the Board of the Australian Digital Health Agency.
Date/Time
Date(s) - 29/06/2017
5:30 pm - 8:00 pm
advise of dietary requirements
The Transport Exhibition, The Powerhouse Museum
500 Harris St
Ultimo
Spaces Available
2
iCalendar
iCal
Categories No Categories
Bookings
The first time you register for an event, an account will automatically be created for you. (This is a non-member account). A username and password will be emailed to you. This allows you to manage your event bookings.
If you are already a Member or have previously booked an event, please login to your account prior to purchasing tickets. (To become a Member, see our Join us page).
(Franklin Women's Paypal account is registered under Biotalk Pty Ltd)
Bookings are closed for this event.