We'll be saying goodbye to 2019 with an evening of inspiring conversation with Professor Jenny Martin, the Deputy Vice-Chancellor (Research and Innovation) at the University of Wollongong.
We are lucky to once again be joined by journalist Meredith Griffiths who will lead a frank and fabulous conversation with Jenny about her career journey – from structural biologist and group leader, to Director of the Griffith Institute for Drug Discovery, and now her current role. Jenny will reflect on her career journey, the lessons she has learned from years of advocating for gender equality in science and wider science communication, and why she is so passionate about supporting the next generation of researchers to succeed in an ever changing research and academic environments.
There will be plenty of time to ask Jenny questions and to mingle with women working in diverse roles across the health and medical research sector. And, of course, there will be plenty of good food and drinks too, as we celebrate the end of another year!
Our speaker Jenny Martin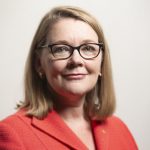 Professor Martin AC FAA is the Deputy Vice-Chancellor Research and Innovation at the University of Wollongong, and the recent Director of the Griffith Institute for Drug Discovery at Griffith University. She was an inaugural Australian Laureate Fellow at the University of Queensland, where she also held ARC Queen Elizabeth II, ARC Professorial and NHMRC Research Fellowships. Professor Martin is a renowned structural biologist who has made pioneering discoveries in the field of redox biology and drug discovery. She has reported the struc-tures of more than 130 proteins and protein:inhibitor complexes. Prof Martin is currently President of the Asian Crystallography Association, and a member of the Executive Committee of the International Union of Crystallography. She was elected a Fellow of the Australian Academy of Science in 2017. In 2018 she was awarded the highest civilian honour in Australia, Companion (AC) in the General Divi-sion of the Order of Australia "For eminent service to science, and to scientific research, particularly in the field of biochemistry and protein crystallography applied to drug-resistant bacteria, as a role model, and as an advocate for gender equality in science."
You can connect with Jenny on Twitter @Jenny_STEM
Our host Meredith Griffiths
Meredith has been a TV and radio journalist for 12 years, mainly with the ABC but also with the BBC in London. For the past 3 years she has been specialising in health and science news and investigations. She is passionate about developing career opportunities for women and has been the host of our previ-ous In Conversation events with Dr Melina Georgousakis and Elizabeth Koff.
You can connect with Meredith on Twitter @meremuses
Date/Time
Date(s) - 25/11/2019
5:30 pm - 8:00 pm
.
Hotel CBD
Level 4, 1/52 King Street
Sydney
Spaces Available
19
iCalendar
iCal
Categories No Categories
Bookings
The first time you register for an event, an account will automatically be created for you. (This is a non-member account). A username and password will be emailed to you. This allows you to manage your event bookings.
If you are already a Member or have previously booked an event, please login to your account prior to purchasing tickets. (To become a Member, see our Join us page).
(Franklin Women's Paypal account is registered under Biotalk Pty Ltd)
Bookings are closed for this event.