Managing relationships virtually is not new to our sector as our work spans local and international borders. However, the last few months of intensive online working has shown us that virtual relationships – whether it be within teams, with international collaborators or simply your wider networks – have unique challenges that require a different skill set than managing face to face relationships.
With the expectation that virtual interactions will play a larger part of our professional lives, we are excited to welcome back Relational Strategist, Julia Palmer, for our first-ever virtual event over afternoon tea! In this remote 1-hour workshop, Julia will share practical tips for staying connected virtually, whether it be strengthening existing relationships, re-igniting and re-investing in your networks, or establishing new relationships and collaborations.
Of course, like all Franklin Women events, this workshop will be interactive (gently, we promise!), giving you the opportunity to put your new skills into practice with other women who have joined us from across the health and medical research sector.
We look forward to seeing you online and learning how to build positive virtual relationship habits that will help us through this this time and beyond!
P.S. If things change on the day and you end up not joining us. Don't worry we will send a link to the video which you can access at a later date…
Our guest speaker
Julia Palmer  @JuliasBuzz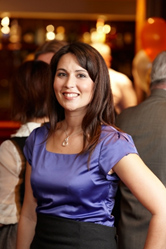 Julia Palmer, Relational Strategist and Chief Executive of Relatus, is a respected Relational Strategist and best known for leading the face-to-face revolution!
Her expertise includes 20 years of practice and research combined with Advanced Certifications in Neuro-linguistics, Emotional Intelligence (MSCEIT), Performance Consulting, Training and Assessment. By age 25 Julia was the General Manager of a Multi-million dollar global organisation, she has built her career by organising and attending thousands of networking events across all industries internationally. Now as CEO of Relatus, Julia helps you position yourself in professional networks and build your relational capabilities to maximise the human advantage.
Julia presents at functions and conferences around the world. Her clients include; 3M, ANZ, Nestle, St George Bank, QBE and Vodafone. She has authored two books 'Schmoozing the Globe' and 'BUZZ' and appears regularly in TV, Radio and Print Media promoting the growing importance of networking relationships in business today.
Location: Your Place
Date/Time
Date(s) - 04/06/2020
2:30 pm - 3:30 pm
This is a remote workshop that will be delivered via Zoom – instructions for joining will be sent to registrants closer to the event.
Spaces Available
0
iCalendar
iCal
Categories No Categories
Bookings
The first time you register for an event, an account will automatically be created for you. (This is a non-member account). A username and password will be emailed to you. This allows you to manage your event bookings.
If you are already a Member or have previously booked an event, please login to your account prior to purchasing tickets. (To become a Member, see our Join us page).
(Franklin Women's Paypal account is registered under Biotalk Pty Ltd)
This event is fully booked.