Increasingly those working in the health and medical research sector are being asked to demonstrate the impact of their work to research stakeholders.  Whether it be members of the community who ultimately benefit from our research, to governments and research funders such as the NHMRC who are requesting impact case studies in their new Investigator and Synergy Grants. But for many of us the concept of Research Impact is relatively new and what it means, how to capture it, and then how to communicate impact effectively is unclear.
We are excited to welcome Tamika Heiden of the Research Impact Academy, who will answer all of these questions and equip us with the skills that we need to successfully navigate the pathway to impact. The next step of course is how to communicate all this impact. To help with this step, we have invited a panel that represent the various research stakeholders to provide feedback on their expectations and experiences with engaging with researchers about the impact of their work.
As always, there will be plenty of good food and drinks, as well as a room full of amazing women from across the health and medical research sector to connect with.
Our Speaker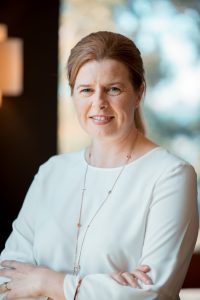 Dr Tamika Heiden is the Principal of the Research Impact Academy. She has more than a decade of career experience as a researcher and research manager in the fields of health, sport and medical research that began with a sports science degree and a PhD in Biomechanics. She has a certification's in Knowledge Translation from the University of Toronto, and from the International School on Research Impact. Tamika is an honorary research fellow at the Murdoch Children's Research Institute in Victoria, an Adjunct Research Fellow at the University of Western Australia, sits on the scientific committee for the Medical Research Foundation at Royal Perth Hospital, and has a formal partnership with SickKids Hospital in Toronto.
Tamika's national and international work brings together researchers and research users to share, create and translate knowledge for the betterment of society. She has worked with many government and non-government organisations to facilitate high-level overviews and strategic thinking, particularly relevant to the Australian research funding landscape where she gave evidence to the Senate Committee enquiry for the Medical Research Future Fund. Tamika won the 2018 award for Excellence in Knowledge Translation from the SickKids Learning Institute in Toronto and the Award for Innovation from the Institute for Knowledge Mobilization.
Tamika has shared her knowledge with a variety of audiences at conferences and symposiums, run workshops, been published in numerous professional and academic journals, and been involved in the development of Knowledge Translation strategies at the organisational and project levels.
Our warmest thanks to communications agency WE  Buchan for partnering with us to deliver this event

Date/Time
Date(s) - 26/09/2019
5:30 pm - 8:00 pm
.
The Primus Hotel
339 Pitt St
Sydney
Spaces Available
4
iCalendar
iCal
Categories No Categories
Bookings
The first time you register for an event, an account will automatically be created for you. (This is a non-member account). A username and password will be emailed to you. This allows you to manage your event bookings.
If you are already a Member or have previously booked an event, please login to your account prior to purchasing tickets. (To become a Member, see our Join us page).
(Franklin Women's Paypal account is registered under Biotalk Pty Ltd)
Bookings are closed for this event.