I hope Monday's post gave you a quick insight into science policy and where there are opportunities for scientists to provide input, either through formal or informal channels. In today's post I thought I could share a little about what I do day-to-day as Senior Research Officer in the Policy Team at the National Centre for Immunisation Research and Surveillance (NCIRS).
My role at NCIRS involves many tasks, all that are very different from those I carried out in my previous life as a medical research scientist (though to be honest, much of the thought processes are the same). The main responsibility of our team is to provide research and technical support to the Australian Technical Advisory Group on Immunisation (ATAGI). ATAGI is a ministerial advisory body that reviews the most contemporary evidence on immunisation and provides independent advice on immunisation to the government. This most often relates to advice on the Australian National Immunisation Program that provides many vaccines for Australians free of charge (it is one of the most comprehensive programs in the world btw). The previous ATAGI chair Professor Terry Nolan wrote a great paper explaining processes for immunisation policy in Australia, including the role of ATAGI and NCIRS - google scholar "Nolan, Terry M. The Australian model of immunization advice and vaccine funding. Vaccine 28 (2010): A76-A83".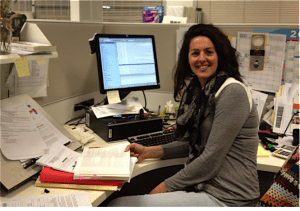 Let me give you an example of one of the projects I worked on when I started at NCIRS as a very green policy researcher. A few years before I started, Australia had launched their National Human Papillomavirus (HPV) Vaccination Program for girls/young women, but at the time, new clinical trial data had emerged demonstrating the vaccine was safe and effective in males. This new evidence led to the policy question of should the National HPV Vaccination Program be extended to include males, and if so, what ages? how many vaccine doses? will a booster be required etc etc etc. As one of the NCIRS team members providing technical support to the ATAGI HPV Working Party, it was my task to review, synthesise and appraise the available evidence (published, grey literature and in-confidence) that would answer these questions. This was done by carrying out systematic literature reviews (with the assistance of an amazing medical librarian, Catherine King, who is also a Franklin Women member).  Systematic reviews are a research method that is regularly used to inform clinical questions. Unlike traditional narrative reviews, systematic reviews aim to comprehensively review all relevant studies relevant to a clinical question, critically appraise the study quality and synthesis/interpret data identified. The National Health and Medical Research Council publish guidelines on how to systematically identify and review evidence. Our team published a narrative review article summarising the different policy considerations relevant to extension of the HPV vaccine program in Australian in Lancet Infectious Disease (woo hoo!). Available here if your uni/institute has access. The HPV vaccine program in Australia has since been expanded (from 2013) to include free vaccine for adolescent boys and girls. A good example of where research lead to change in public health policy!
There are a number of other projects that I work on, such as the preparation of resources for immunisation providers on vaccines and vaccine preventable diseases. I am also the assistant technical editor of The Australian Immunisation Handbook, which is the National immunisation guidelines used by those who administer vaccines. When required I can take on ad-hoc epidemiological research projects, for example analysing hospitalisation and death data.
After nearly 5 years in this role I have learnt so much and have developed a real interest in public health policy. I would be lying if I said there weren't things from the lab I didn't miss, however there are many that I don't. See below my list of likes/not-likes for my current job! The most daunting part for me was coming to the realisation that I was ready to move on from the lab and figuring out where I could go that would utilise the skills and knowledge I had acquired through my years of science training as well as the other personal skills I had that weren't being utilised in the lab. But more about that next blog….
LIKE
Seeing your work translate into public health benefit
Interacting with lots of different stakeholders (buzz word!), from nurses/doctors, government officials, experts, vaccine companies
Working on so many different diseases, vaccines, research questions
Translating complex science into resources for those who deliver vaccines
Learning about risk communication - a personal interest of mine that is very relevant when communicating about vaccines to members of the public.
Having a stable position that doesn't rely on research outputs e.g. papers!
NOT SO MUCH
Sitting down at a desk all day (and eating at your desk, sometimes!) is hard to get used to
Learning how to know a little about a lot rather than a lot about a little (eg your PhD!)
Coming to terms with not having your own research project and publishing reports without your name as the author
The external factors that impact your work load that you cannot plan for (governments are even more unpredictable than group A streptococcal opsonisation assays!)