Our latest addition to the Franklin Women Roving Reporters, Clare Watson, chats to Amee Baird, a clinical neuropsychologist and researcher, about her career journey in the area of music therapy and science engagement (like recently featuring on an episode of Catalyst!).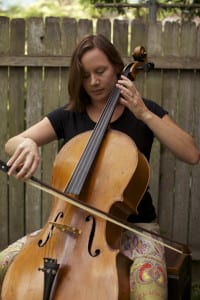 Clare: We've noticed that you've been featured in the news lots recently and you were also invited to join a panel at the World Science Festival in Brisbane earlier this year. What is your current role and what does a normal day look like for you in this role? What have you enjoyed most in your day today?
Amee: Well, it depends on the day because I have two roles; I work two days a week as a clinical neuropsychologist (when I see a patient I will spend four hours with them) and three days a week in research. Today is a research day, which is one of my favourite days, so it's a writing day. I'm trying to finalise a manuscript to submit for publication. Today, because my three kids are at their grandparents, I was able to go and have a swim – I live five minutes walk from a surf beach in Newcastle – so that definitely [has been] my favourite part of today.
Clare: It's always good to start the day off well! Your research is looking into the ability of music to recall memories in dementia patients. When introducing music to patients, do you work with a music therapist, have an enviable collection of classics, or strike up a chord yourself?
Amee: I usually play recorded music or sing – they're the two ways I've done it so far. I haven't actually worked with a music therapist but my research does overlap with the type of work that they do so I'm certainly open to that idea. I played music from a young age. I played the piano and the cello, and a few other instruments in between, but I stopped playing during university and three kids later – you just don't have the time. My postdoctoral position [at Salpetriere Hospital, Paris and Lille University, France] combined those interests and passions of music and the brain (neuropsychology).
Clare: You completed your PhD at the University of Melbourne and a postdoc at Lille University in France. You are now based at Macquarie University. How valuable have these experiences, researching at different universities across the world, been for the development of your research?
Amee: For most of my career so far I've actually worked in clinical positions as a neuropsychologist and I've done my research on the side. Doing it that way, I had a lot of freedom to have affiliations with different universities. Certainly, the opportunity to work overseas was fantastic. I also did a clinical job in London for a couple of years so I've had a couple of overseas stints. I think having that overseas experience and moving around is fantastic for life not just for research, really, to be open to new experiences and new ideas. I'm now more firmly affiliated with Macquarie University because I've just started a research fellowship and I think there are certainly benefits to having a formal university appointment too.
Clare: So far, can you pick a highlight for you in your research career?
Amee: I think being awarded the four-year NHMRC and ARC Dementia Research Development Fellowship – bit of a mouthful. I've just started that this year so I've got four years to look into music and memory and dementia, which is exciting to have that longer stint of funding. That fellowship also allows me to combine my clinical practice with research, which is really important to me to continue to work clinically because a lot of my research ideas actually come from working directly with patients.
Clare: Has there been a personal highlight with a particular patient that has surprised you or really left an impression on you?
Amee: I met a lady – her name is Norma and she's 91 years old. Her daughter wrote an email to me saying, "I wonder if you'd like to meet my mum. She's got severe Alzheimer's dementia but she sings along to pop songs on the radio" – recent pop songs not songs from her youth – "and she can sing them a week later." I thought that was fascinating so I went to meet Norma and I actually taught her a new song, a song that she'd never heard before. She could recall it two weeks later, which was really surprising because she couldn't recall three words after a couple of minutes, but the musical material, the songs, they stayed in her mind. That was quite a highlight from last year.
Clare:  You might have noticed that Franklin Women aims to connect women working in diverse health and medical research careers to promote new professional relationships and opportunities. Who have you met over your career that has been influential in you getting to where you are today?
Amee: My postdoctoral supervisor in Paris – her name is Professor Séverine Samson. She introduced me to the topic of music and memory and dementia. This has now become my main research interest so she was very influential in my career to date. When I was working with her I started to read case studies of musicians with dementia who could still play their musical instruments and it steered me into this path of what I'm now doing my four-year fellowship on.
Clare: What do you think are the benefits from scientists speaking about their research at popular events like the World Science Festival and do you have any advice on how to go about it?
Amee: I think I've just been lucky, really, because people have a real affinity to my topic of research – music and memory seems to attract a lot of attention. I think it's because people can relate to [my research] really easily because they experience it in their own life, that feeling of remembering someone or something when they hear a song. I try to take all the opportunities I can to discuss my research with people outside of my field because I think that it is important to communicate research with the general public rather than operating in a silo within your discipline. It can forge new collaborations with different people who you wouldn't think to work with. For example, something that came out of the 'Music on the Brain' Catalyst episode [was a collaboration] with some [people] in Perth. [They] are trying to start some research in people with dementia from non-English speaking backgrounds and how music might be able to help people who are bilingual [and have dementia], who (anecdotally) often lose English and revert back to their native language. That's not something that I had thought of, and they approached me so now we're forging this new collaboration.
Clare: It has been great to hear your journey and what you've found out along the way. Lastly, for my own curiosity, how many Oliver Sacks books have you read and which one has been your favourite?
Amee: My favourite is the first one I ever read, which was 'The Man Who Mistook His Wife For a Hat'. It is so beautifully written and it inspired me to study clinical neuropsychology. I wasn't sure how many [books Oliver Sacks] had written so I Google-d it, and to my surprise I've only read half of them so I've got a bit of reading to do!
Do you know an inspiring women in the health sciences who has a career journey others in our field can learn from? If so, let Clare know - you can find her snooping for other good stories and her next travel destination on twitter.