Our Roving Reporter Clare Watson chats to Lia Paola Zambetti, Assistant Head, Office of Scientific Communication and Archives, Agency for Science, Technology and Research (A*STAR), Singapore, about her career journey which started out as a lab-based scientist.
Clare: Lia, you have had an exciting career journey, from lab-based research to science communication work in Singapore. What is your current role and what does a normal day look like for you in this role?
Lia: My current role is being an Assistant Head in the Office of Science Communication and Archives in A*STAR. In my normal day I tend to care for a number of projects in science communication. It can be things like organising a scientific conference, or being an editor, or organising outreach [events] or talking to scientists that are being asked to participate in our outreach program, helping them and giving them feedback on their presentation.
It's a job that I really like because it's very varied. When I used to work in the lab, it used to be experiments all day – day in, day out. Here, it's more of an office type of work but I still talk to scientists every single day. I actually see a lot more science now and, paradoxically, of a lot more varied type than what I used to see when I was in the lab. I find that for me it's a much better fit.
This path suits someone who has an interest in science but is not interested in diving so deep into a topic that you can no longer see what is outside of it – that used to be one of my issues when I was doing research. If you don't find your niche then that's it, you won't make it. If you have that kind of [broad] mindset you also won't be a very successful researcher – at least, that's my impression of the scientific landscape in 2016, regardless of where you are in the world!
Clare: What do you enjoy most about your role in science communication?
Lia: The fact that there are no two days that are the same. I don't have to do the same type of work every day. It depends on what the particular activity of that day is. If it's organising conferences for example, I need to get in touch with the speakers. If it's editing, then I need to check articles. There's no longer a typical day for me.
Clare: Before this, you were a researcher at the University of Pavia, Italy, and the Anthony Nolan Research Institute, London. What was your area of research?
Lia: I was a 'bad' researcher because I never specialised and that was, more or less, used against me a number of times. I studied microbiology and genetics and then immunology. The fact that I was not following a single line of research probably impacted on my productivity. But I wanted to get an overview on as much science as possible and I was very much always trying to do research towards a clinical application.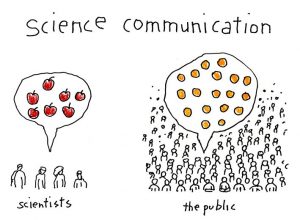 Clare: You have completed diverse training in health research, from MSc in Genetic and Biomolecular Sciences and in Human Molecular Genetics, to a PhD in Molecular Immunology. What interested you in a role outside of the traditional academic career?
Lia: I think [science communication] is absolutely fundamental. When I was in London, I saw many scientists that, when a man on the street asked them what they were doing, gave replies that were unintelligible or highly technical. Even a person with a PhD in that area would not have understood! I'm told that explaining what you do to your grandmother is really the best.
Clare: Throughout your PhD, and after that as well, you've worked as a freelance science journalist for Italy-, Singapore-, UK- and Australia-based publications and websites. How do you go about finding freelance jobs or pitching stories to different audiences?
Lia: By not giving up – you've got to pitch, and pitch, and pitch, and keep pitching until you get through somewhere. So perseverance, and also be flexible in where you're considering writing for. I started with newspapers, which is normally an end point, but from there I moved to websites and other types of publications. There isn't one career [in science communication] as a model you can follow.
Clare: Many people I think would agree that it is very daunting to make a career change or career sidestep. Do you have any advice for anyone interested in pursuing a career in science journalism, particularly those trained as a scientist?
Lia: Once you decide what you want to do, talk to as many people as possible and, ideally, not only your colleagues because they will be the one less likely to be able to help you. Bear in mind that networking can take many forms and you might not recognise it in the beginning as such. Some of my best career advice ever came from a friend who works in business and who doesn't know anything about science. Be prepared that networking takes time but it is a priority. It doesn't matter if you want to build your own research group with five postdocs and ten PhD students, or if you want to become a journalist, you won't get there without networking.
Clare: What is the most important skill or attribute from your lab-based training that you call upon in your journalism career?
Lia: Perseverance, which you need to have for a career in research and journalism, and possibly the ability to find specific information – reliable scientific information – quickly.
Clare: At Franklin Women, we aim to connect women working in diverse health and medical research careers to promote new professional relationships and opportunities. Who have you met over the course of your career who has been influential in you getting to where you are today?
Lia: There is way more than one person but here is one example: he trained as a science journalist and came to my university in Italy to give a course in science communication. I was curious and I wanted to attend. I had to fight with my boss because she said: "you are taking this time out of the lab for a [course] that is not relevant to your curriculum". But I went and pretty much everything started from there because I started writing professionally after that course. If I had not gone, I do not know where I would be so I am very, very happy that I went.
Clare: You have four languages to add to your artillery: Italian, English, Spanish and Ancient Greek. What is your secret for becoming proficient in a second language? I have been periodically studying Spanish for years!
Lia: It is not much of secret but you really need to need [the language] in a sense. For example, my Spanish got better when I was in London because most of my colleagues and some of my bosses were Spanish speakers. In Singapore there are people of almost every nationality – as in Australia – and you just need to find people who can help you practice.
Thank you!