Our Roving Reporter Clare Watson chats to Megan Downie, Assistant Director, Research Investment Section, Health and Medical Research Branch, Commonwealth Department of Health, about her career journey which started out as a lab-based scientist.
Clare: Megan, let's start with your current role, which is within the Research Investment Section at the Department of Health. What does a normal day look like for you in this role? What have you enjoyed most in your day today?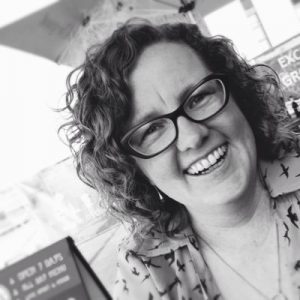 Megan: The research investment section [of the Department of Health] looks after a couple of new measures from the government for investment into health and medical research. Our role is to develop the policy that will underlie those programs. We also prepare briefings and documents for the health minister among other things.
The great thing about my role is that there is no normal day. I could be in the office drafting correspondence, or I could be at meetings, or we've just concluded a roadshow around the country. I think that's what I probably most enjoy about it: you never know quite what is going to happen. The most exciting days are the days where you've been productive but it was all spur of the moment, reactive issues rather than what you had planned.
The mix of people that I deal with on a day-to-day basis is really interesting. I interact with other officers, and with other people in the Australian Government: policy people, program people or legal professionals, for example. A lot of my stakeholders in this role are people in academia, in health and medical research, and also industry. I'm always meeting very impressive people, who are science heroes and I get to meet them in the flesh – it's really exciting!
Clare: Before you started working for the Department of Health, you completed your PhD at the Australian National University where you were studying the malaria parasite followed by several postdoc positions. What was a highlight for you from your time in the lab and is there anything you miss?
Megan: I miss the feeling you get when you've got the results in from an experiment and it's worked fantastically. And I miss playing with data actually – that was always fun. I don't think I have a single highlight from my time in the lab. I miss the opportunities you have during a PhD, and during postdocs, to completely own what you're working on and to follow your passion rather than doing what was strategically necessary. I don't think I realised in my PhD how valuable that time was.
Clare: Your previous role with the Department of Health was in immunisation policy so your expertise in infectious disease must have been directly applicable. What other skills or attributes you acquired from your research career have you called upon in your new career in health policy?
Megan: There are so many applicable things. The writing skills that I had developed during my research time are definitely applicable here – it's a different style of writing but the ability to adapt your writing to different audiences is essential. Also, the ability to read a lot of different literature and pull it together in a brief summary is key. And the networking that you do as part of research without realising it – at conferences and with other researchers – is really valuable here, plus [networking] sets you up for a host of other careers. Grab a coffee with someone and have a chat about what they do; you never know when that connection is going to be really useful for them, or for you.
Clare: How did you make the move from the lab to working in health policy and do you have any advice for a researcher interested in working for the Department of Health or public service?
Megan: Working as a postdoc overseas, like in the United States, where research is incredibly well funded, I realised that the people who I had worked with in Australia were doing some amazing research on a fraction of the funding – and that was something to be really proud of. Having grown up in Canberra, I was aware of the different job options in the public service and that it would be one way to still be involved in that research field without being in academia itself – to look into the policy that supports our scientists.
I first took a technical role in the public service in regulatory science. I learnt some great skills and had a really interesting time. I moved sideways to a policy role from there. So my first job really relied on my scientific knowledge while also training me up in some of the policy aspects that I now use.
I guess it's about keeping an eye out for those roles – and they do exist – where you can use the skills that you already have while also developing your next set of skills.
Clare: We noticed you have also spent some time working as a freelance medical writer. What interested you in roles in health and medical research outside of the traditional academic career?
Megan: A number of things. Towards the end of my postdoc I spent a lot of time writing grants and I really enjoyed writing but I didn't particularly enjoy writing all weekend long. I guess I was investigating having a career in writing outside of the lab. The freelance writing that I've done actually came out of the networks that I'd made in research and elsewhere. I guess what interested me was still being involved in the science while also having a bit more work-life balance – and I think that's one of the great aspects of my current role.
Clare: Here at Franklin Women we aim to connect women working in diverse health and medical research careers to promote new professional relationships and opportunities. Is there a particular person that you have met over the course of your career who has been influential in you getting to where you are today?
Megan: I think really there's no one person – there has been many people. I work with a range of different people and I've had some amazing bosses. All of the women that I've worked with, as well as many of the men, have influenced where I am today. For me, it's about taking the attributes that I see in them and trying to model that in my own behaviour but in an authentic way. Obviously you can't emulate one person exactly because that wouldn't be authentic. It's really about seeing who is around you as an informal mentor and what you can learn from them – peers as well – and what attributes you want to take away. It might be how they perform, how they get their job done or how they treat their staff – they are all things that I'm constantly observing.
Clare: That's a great note to end on, and it goes back to building those networks across your career. Thanks Megan!