Our Roving Reporter Clare Watson chats to Ros Blakley, General Manager, Bupa Medical.              
Clare: Ros, let's start with your current role. Since 2014, you have been managing Bupa Medical, a branch of the Bupa healthcare group that delivers primary health care services through city-based GP clinics and Telehealth services for regional residents. What does a normal day look like for you in this role? What have you enjoyed most in your day today?
Ros: There are three main areas that I am responsible for: operations, clinical development and governance. Operations is managing our primary care strategy and executing Bupa's aspirations in multidisciplinary care to provide team-based, coordinated primary care in one location for patients. Bupa, originally a health insurer in Australia, is now cementing our place in health care provision.
I also am one of the national medical directors for Bupa for the Australian-New Zealand market. I primarily have responsibility for the leadership and development of our clinical workforce. This entails developing our strategy for how we can – as a new business in health care provision – attract, retain and develop our clinical workforce, which I find really exciting. I also head up clinical governance, as well as driving our safety culture, across our health services, so that includes our dental, optical and primary care facilities.
At any one point in my day, I could be doing one of these three things, somehow combined or separately. In a management position like this, you need to be able to change tact at any minute or hour of the day, from one topic to another – but I enjoy that.
In my role, I really enjoy realising change. I am very much a person who can't fix something just for me. I could spend my day just fixing my little part of Bupa but if I see an opportunity to fix a bigger thing that realises the root cause, then let's fix the root cause because then everyone benefits.
Clare: You completed your medical training at the University of Queensland. What was your medical specialisation and why did you pursue it?
Ros: I had committed to military medicine before I had even finished my training. I actually joined the army in my fourth year of the undergraduate program so I set my path to the military at that point [but there were other specialisations that I considered].
In my first two years in the hospital system, I became very passionate about orthopaedics and loved that immensely. I considered doing [orthopaedics] as a career until I decided that I had already had two children and that I didn't want a 24-hour 7-day week role.
I did get most of the way through my fellowship with the College of General Practice but that was when the college was brand new and it was not flexible. The college didn't really understand the military – any time that you did with the military [as a medical officer] wasn't accredited; they said it didn't count as real medicine. There was a real disconnect between capability and experience, and what the college viewed as reasonable. I couldn't meet their requirements because I was going here, there and everywhere [with the military].
I spoke to the Chief of the army and said that you won't be able to recruit and train doctors if this is the view that the college takes [– if they don't recognise military experience]. We needed to engage with the college, help them realise what it is we do and get consideration of the skill set we have. The college now has a direct liaison with the military.
Clare: What appealed to you about joining the defence force as a medical officer? What from your experiences are the differences with practising medicine in the defence force compared with typical clinical settings?
Ros: I suppose I was a black sheep in the medical community. I grew up in rural NSW and went to university in Queensland – so that was challenging enough! My parents are farmers and I'm from a six-generation farming community. My parents weren't medical practitioners so I was a minority in my year.
I distinctly remember walking around a general practice as a fourth-year student and thinking, "I can't do this. This can't be my reality." As much as I respect general practitioners, I couldn't see myself doing something so repetitive. I met a few friends who were in the army reserve and there happened to be a presentation at the university a couple of weeks later about joining the army. I thought that it sounded like me, that I could see some of the country, and do different things with different people. I thought that I would just do the three years that I owed them then get out but I ended up staying for 18 years in total, including my study.
It was the diversity in roles, diversity in location and diversity in people [in the military] that appealed to me. I got to do things in the military that I wouldn't have done elsewhere. I got to own a whole range of diverse health policies, like basic fitness, combat fitness, rehabilitation, workplace health and safety, and career management. It would have been very hard to get that same exposure in another environment in that short time.
While in uniform, part of my role was to help other people in the defence force to find new roles, particularly those who had medically discharged. I was the senior case manager for all our battle casualties in the army. The military is an interesting career to be in and then endeavour to get out of. People can have perceptions, largely shaped by our ANZAC story, of what people are like in the military – perceptions of your personality or leadership style, that you're hierarchical and that you give orders. People who have served in the army have so many skills and talents but the external community's understanding of that is limited. The corporate world needs to treat them as individuals, not as a collective, and give people the chance to talk about what that skill set might look like.
Clare: Before your role with Bupa Medical, you also served as a medical advisor and director for area health services in Victoria and Tasmania. How did you come to the decision to leave the military and transition into a health executive role? Did you undertake any training to support the move?
Ros: I left the military for personal reasons. My partner and I had a three-year-old child and we hadn't live in the same house for four years because my partner was in the military as well. I had looked after four children by myself while working full-time while he was away for three years. My partner was already in Melbourne; but my path of promotion was in Canberra. I took the opportunity to work out of uniform when it presented itself.
It was a natural extension of my military career. As you get promoted [as a medical officer] in uniform, you move from direct patient care up to managing patient care up to managing policies and procedures that deliver quality care – so effectively I stepped into a leadership role eighteen months into my time in the army. I did do a Masters of Health Administration (University of NSW) when I was in uniform but that was part of my overall career development plan within the military.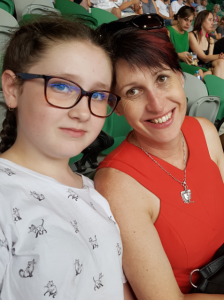 Clare: How has your leadership style evolved from your experience in different professional environments in the health sector? What qualities do you think make someone a great leader?
Ros: As you mature, leadership is learning from every different exposure that you've had. The great thing about the diversity of roles that I had was that I got to be in different situations all the time. You develop a library of tools for different scenarios; part of it is being able to develop an awareness of what situation you are in, learning to read that well, and respond to people in a way that relates to them.
When asked an ethical question, people frame their answer from their personal experience but also their academic qualifications and career exposure. The tendency is for people to default to their professional stance. For example, in a medical setting, how a doctor in emergency medicine versus a general practitioner would respond differently to a question of end of life care versus a lawyer. So it's about understanding the people you are with or leading and what is important to them – what's their frame of reference? – and being able to tap into that.
For me, for what makes a great leader, it's listening. But also, surrounding yourself with a great team of people. As a leader, you don't need to be an expert in everything but you need to surround yourself with people who are an expert in their discipline. The other big thing for leadership is that you have to provide the people you are leading with clarity on the why and what their contribution is to that.
Clare: Franklin Women is all about connecting women working in diverse health and medical research careers to promote new professional relationships and opportunities – so networking and mentoring are key themes. Is there a particular person, or leader, that you have met over the course of your career who has been influential in you getting to where you are today?
Ros: There are people at every step of my career who I have listened to and learnt from. When I first joined the army, I was in military hospital in Brisbane and I didn't know that culture. I had come straight from out of the hospital system. The senior uniform doctor taught me the value of being able to turn doctor speak into management speak with clarity – how to converse with people who aren't clinicians.
In my latter time in uniform, I was in army headquarters when the treatment of women became a topical issue [Elizabeth Broderick, the Federal Sex Discrimination Commissioner, led an independent review of the treatment of women in the Australian Defence Force Academy in 2011]. Female army officers make up 4% of the army My boss at the time was an [male] artillery officer. It was a changing of the guard in the army where a lot of the senior leaders had come from Vietnam days and spent their time with men. They weren't used to dealing with women who A) could win an argument against them and B) who were in positions of power. At that time, when Elizabeth Broderick was around, the key thing that I got out of the conversations that were happening, is that you don't have to play like the boys to compete with them. You can be a strong, positive and feminine woman and still be successful.