Our Roving Reporter Clare Watson chats to Suzanne Elliott, Operations Manager, Chief Scientific Officer and Deputy CEO, Q-Pharm Pty Limited, about her career journey which started out as a molecular biologist. 
Clare: Suzanne, let's start with your current role. Since 2003 you've been managing Q-Pharm, a private clinical trial site facility co-located within the Royal Brisbane and Women's Hospital and the QIMR Berghofer Medical Research Institute. What does a normal day look like for you in this role?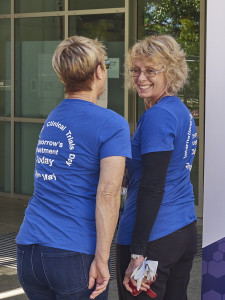 Suzanne: Before I go to work, I go to boot camp – that's my stress release and my time to myself. When I get to work, there's no one typical day but from the prior Friday, I've got the work week mapped out in terms of various meetings. We have standard work meetings for administration and operations. Our weekly Monday administration meeting (which involves our general manager, senior admin assistant, senior project support officer, head of business development, our quality assurance manager and our current interim CEO) is a catch-up on a week-to-week basis. The team gets together to understand what clients might be coming through, what work we've got available and what things we're scheduling. Our operations meeting (which involves our manager of medical services, clinic manager, clinic training manager, my support officer, general manager and our interim CEO) is more an update of what's actually happening in the clinic, if there are any issues – staff, equipment, anything that impacts the conduct of our studies but also future planning and scheduling [of studies].
In terms of the rest of the day, it comes down to what's happening in the clinic. We have between 15 and 20 studies active all at one time, at various stages. Balancing all the various meetings and hosting clients while you're actually trying to do the research as well – that's what I find is the biggest challenge in my role. I have fairly long days. I have to attend client meetings, audits and meet with the clinic team, and then you've got to figure out when you'll get the rest of your work completed.
Clare: By the sound of it, communication amongst all your team members is key!
Suzanne: Exactly. And the thing is attacking [communications] at different levels because people use different mediums to communicate – some people do all emails, some do text. You've got a lot of people who aren't sitting in front of the computer – they're out on the floor. Internally, we put out a "Q-Weekly" newsletter one-page summary in the tea-rooms, have monthly company meetings, have "all of company" emails and department meetings. If possible the personal approach to all departments, my one-on-one – "my rounds" – is where I speak to various staff members regularly to keep fully up to date, as things move so rapidly between projects.
Clare: You completed your PhD at the Queensland University of Technology (QUT). What was your area of research and how did you establish the necessary links to embark on a PhD in this area?
Suzanne: My PhD was investigating molecular analysis as an adjunct in the diagnosis and management of leukaemia. I think I fell into it! I had worked in private and public pathology labs for over 7 years. During the 80s, the molecular era was developing. I started a Masters in Medical Laboratory Science and one of my favourite subjects was molecular diagnosis of disease – I thought this is going to be really important in the future. There was an opportunity when Queensland Institute of Technology (QIT) became QUT. My mentor, Prof. Tony Webber, said "Suzanne, have you ever thought of doing a PhD?" and I went, "What's a PhD? What do you have to do?". Because in med lab science, in those days, the main thing you did for work was go out and work in either private or public labs – research really wasn't well recognised.
I talked to my supervisor in haematology, Dr Kerry Taylor, and we put together the project. When QUT opened I became one of the first PhD students in the Centre for Molecular Biology, which at the time was all about plants and human viruses, Chlamydia and proteins, and I walked in [to study] with blood and cancer and leukaemia. It was fairly isolating and a bit of a challenge at the beginning. We had limited equipment – only one PCR machine between 8–10 of us. The things I learnt through that process were resilience, self-reliance, networking and appreciation of support. I handed my PhD in when I was 8 months pregnant with my first daughter, Louise.
Clare: What interested you in roles in health and medical research outside of the traditional academic career?
Suzanne: I always have been and am very much interested in translational research. I like to see something identified and see how it actually gets into the clinic – that's my passion. I don't think I could be just a pure bench scientist. My PhD involved samples that came from a pharmaceutical clinical trial and also patients in a hospital. I think seeing something that you could diagnose, seeing that impact, was something that interested me very much.
Within 6 months after I had my first daughter I was applying for various jobs. I thought about going back in academia and becoming a lecturer – which is really what I did my PhD to do – I thought about running a haematology bone marrow transplant unit, or something like that, and I thought about going into a postdoc. I actually applied for all three choices but went for a postdoc at Queensland Institute of Medical Research (QIMR), as part of the Cooperative Research Centre for Vaccine Technology (CRC-VT). It was looking at a clinical trial to develop a prototypic vaccine for glandular fever. I didn't know much about vaccines, I didn't know much about viruses, but I thought it sounded interesting. It was great networking and exposure to different angles of vaccine research.
Clare: At what stage of your career did you to move across into the pharmaceutical industry? Did you complete any training to move into clinical trials, either generally or particularly for your specialisation in the area of regulatory affairs?
Suzanne: When I was almost through my postdoc, an opportunity arose in Vaccine Solutions, the commercial arm of CRC-VT. The position was clinical and regulatory affairs manager. It wasn't the same level or scope as a pharma-equivalent position but it was to oversee the trials that were being done at the CRC-VT, involved a bit of patenting, and project management and coordination. I registered for the Graduate Certificate in Drug Development at UNSW, which was a great course, and loved it so much I wanted to do more – so I completed the Graduate Diploma. There was a section on health law and ethics (and I must admit, I realised I never wanted to be lawyer after doing that).
One thing I regret not doing – and if ever I had advice for a woman researcher, or any researcher – is to do a business administration course. I know it's hard to fit in there but I never had that training and I wish I had.
Clare: Do you have any advice for a researcher wanting to move into clinical trial research?
Suzanne: I think people with a med-lab science background have a fantastic opportunity to go into clinical trial research but my first question to someone is "Do you know what 'GCP' stands for?". If you're going to get into clinical trial research, you have to know what good clinical practice is. Look it up, Google it, reference it under the Therapeutics Goods Administration (TGA). Underpinning the whole background of clinical trials is good clinical practice as well as the NHMRC National Statement on Ethical Conduct in Human Research. If somebody came for an interview and I asked what it was, and they had no idea, I would know that they're not actually passionate about going into the area of clinical trials. There's plenty of reading on the web but there's also various courses, some of which are available free online.
Also, I think the other thing is attending various networking events. AusBiotech has its BioBeers events, there's the Women in Technology up here in Brisbane and in the pharma industry there's this group called ARCS. As a student or a researcher if you get involved with those, you get to meet people who may be your bosses – you get your face known, you get to network and you can self-promote yourself just by being visible.
Clare: Here at Franklin Women we aim to connect women working in diverse health and medical research careers to promote new professional relationships and opportunities. Is there a particular person that you have met over the course of your career who has been influential in you getting to where you are today?
Suzanne: There's probably two people, at different points in my career. In my early days, when I was at Mater Pathology, there was Dr Robyn Rodwell. She was my supervisor in haematology; a very motivated, passionate lady in science and research. She's a dynamic lady but probably under recognised because she's a quiet achiever. Then there's Prof. Wayne Hooper, who was the original managing director of Q-Pharm. I started working for him 1 year after Q-Pharm was established. He is a very measured person, very wise and calm, so it was the manner and the guidance that I welcomed from him.
Clare: On the flip side, you've been a mentor to many young scientists yourself. Do you have any tips for serving as a first-time mentor?
Suzanne: Obviously, it's hard to find the time amongst it all. In terms of being a first-time mentor, I'm quite passionate about sharing my knowledge of different career options because when I was back there I didn't know that half of [clinical trial research] existed. I think it's about presenting [your mentee] with the options, balanced options, and planting the seed to have a think about where are you, what do you like and where could you go. Also, maybe guiding them to various websites, pointing out different societies they could join, if they're not aware of them, or introducing them to people in the field.
Clare: I definitely agree. Even in this technological age where you can email someone or connect with them on LinkedIn, I think those personal introductions – the conversations and the connections you as a leader can share – can be really powerful. Thanks Suzanne!