Our Roving Reporter Clare Watson chats to Heather Catchpole, Head of Content & Co-founder of Refraction Media, about her career journey which, like many of us, started with an undergraduate science degree.
Clare: Heather, your latest pursuit is an exciting new venture in science publishing – so let's start there. What is your current role and what does a normal day look like for you?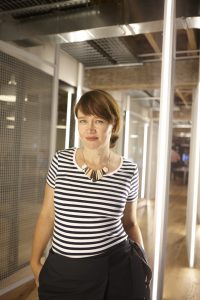 Heather: In my current role as Head of Content at Refraction Media, I can be doing anything from editing magazines to creating new programs for educators, to making videos or driving my own business growth by finding ways to increase the audience that we reach. I also have to stay on top of science and health as a subject.
At Refraction Media, we do a combination of custom publishing and publishing of our own products. We are really proud of the 'Careers with STEM' (Science, technology, engineering and mathematics) series, which we started in 2014 with the support of Google – 'Careers with Code' was the first magazine that we did. That year, we knocked on a lot of doors and told everyone that we thought we had a really great idea to promote computer science careers to students with the point of difference being that we would talk about computer science plus 'x': computer science plus your passion or another field, or a world changing goal that you have. So we're looking at finding those careers which are at the intersection of a couple of different fields.
In the next year we decided that the narrative of combining, not just computer science, but all STEM subjects with another field is really relevant to the careers that students might be expected to have in 5 or 10 years. We think those intersections are where the jobs are going to be created and where the innovations are going to happen. We decided to create a 'Careers with Science' and a 'Careers with Engineering' as our own publications without any major funding.
Clare: What have you enjoyed most in your day today?
Heather: My day is so varied. Just in the last hour I spent some time talking to a STEM teacher at an all-girls school in Sydney, followed by talking to an animation specialist in Malaysia. So I sit in between the audience and the content creators. I really love being at that interface, being the one who can talk to people about how to create content and also talk to the audience about what their needs are, what their interests are and what they most want to find out about STEM.
Clare: It sounds like you're connecting the dots and connecting people. Now to go back to your tertiary education. Like many Franklin Women, your first degree was a traditional science program but you specialised in science communication soon after completing your undergraduate studies. What interested you in a career outside of the traditional academic research pathway?
Heather: I am actually, in some ways, the black sheep of my family; my family is very science orientated. My sister is a professor, both of my parents are teachers and researchers, and I was always the one who wanted to do arts and the creative industries. I guess I decided to do a science degree because I couldn't see what the other career path would be. My experience was that science led to a career so I thought well, I also love being outdoors so I'll do geology. It only took me a couple of years to realise that wasn't for me. My challenge post-university was to then find a career.
I think that is partly why I do what I do because I want to help other people to find out what STEM can lead to and that they don't necessarily lead to traditional careers in academia or even industry. The first jobs that I then did was working in magazine publishing, radio and in website design so the work I did after [my science degree] was very different.
Clare: Across your career you have amassed a wealth of experience as a writer and editor for CSIRO, ABC and COSMOS magazine to name a few, which set you up to launch a specialist science publishing company. Before founding Refraction Media, did you undertake any training in business management or did you receive any specific business advice from a mentor or colleague?
Heather: No, and I think if I had known half of what I didn't know I probably would have! Myself and my business partner, Karen Taylor, we were very much both of the mentality that we would fake it 'till we make it. We knew our business very well, we knew our product very well, and we had clients so the challenge for us in the first couple of months was really pretending that we were a little bit bigger than we were. I had worked as a freelancer for about 4 years so I was experienced in going out to get jobs and knew that you needed to pitch for the next job while finishing off the current job. There was so much to learn about business and we did find as we began that there is a lot of great help out there and you just need to go looking for it.
Clare: Can you recommend any resources or do you have any advice that you would like to share for anyone wanting to launch their own science-focused business?
Heather: Absolutely. There are some great government resources on the basics of a business. We did get legal advice early on too, which was crucial. But what was really important for us was to network as much as possible across areas where we were involved but also areas that were slightly outside of the box for us. We got a lot of help by going to female founders meetings, for example. We would go along to all sorts of business meet ups and you would almost inevitably make a good connection there who would help you in some way, even if it was quite a small way. That was really important for us in the early days.
Clare: One focus of Refraction Media is producing educational resources regarding careers in science, technology, engineering and mathematics (STEM). Can you tell me about your new publication 'Careers with Health'?

Heather: Health, as you will know, is just such a crucial area to society. We also think it's one of those areas where there is a lot of disruption in the way that we have gone about the business of doing health. One of things we wanted to do with 'Careers with Health' was talk about the opportunities for people going into health to combine that [pathway] with the study of data or business, for example. So 'Careers with Health' takes the big issues we have in health – an ageing population, increases in disease, around mental health and changing lifestyle choices – and looks at the new ways in which we are addressing those issues, why things like knowledge around data, for example, is so important in health and e-health, and the changes happening there. We wanted to explore what those future areas of health might be. There are some fantastic, fun careers around wearable sensors and bionics that I think really capture the imagination of kids but we also wanted to look at whole new career areas that involve informatics and population health, the issue of the anonymity of medical records, or learning how to interface with technology – these are going to be such crucial areas. We really need people who are trained in skills across those areas but who are also really passionate about helping people in that way – that's who we want to inspire in this magazine.
Clare: Here at Franklin Women we aim to connect women working in diverse health and medical research careers to promote new professional relationships and opportunities. Is there a particular person that you have met over the course of your career who has been influential in you getting to where you are today?

Heather: My whole life it's my big sister who has been a hugely positive influence. She took the traditional science path in academia. She won university medals and got her PhD and she's only just become a professor yesterday (Congratulations!). Even though our career paths were very different, it was always inspirational to me to see what she could achieve. She's always been passionate about science communication as well so I feel like we are a bit of a ying and yang around science: what you could do and be with science. We did think about doing a podcast together but we just never have had the time!
Clare: We would love that podcast - maybe that could be on the cards for later but it sounds like you are busy enough with Refraction Media! Thanks Heather!