Franklin Women roving reporter Dr Louise Randall speaks with Julia Archbold on her career journey from medical research scientist to freelance editor. Want to connect with Julia? You can find her on Twitter or email. 
You are on a new adventure and just started your own business. Can you tell us a bit about what it is?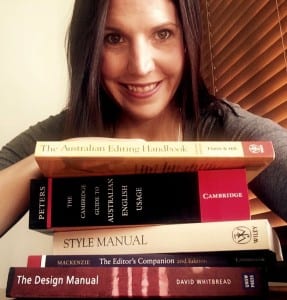 My new business is in science editing and writing. The business is called Corrected. At the moment, I'm freelancing to three major science and medical writing companies. I also have some of my own clients. Typically, my clients are non-native English speakers. Some of the bigger companies send me manuscripts that they have translated from a different language, whether it's Chinese or Japanese. It's sometimes translated directly from that language into English, so the grammar needs correcting after that. For example, the Chinese language is very different to English. They don't have verb tenses at all. In a science article, there needs to be past tense and present tense. So I fix that up. I also fix up the flow of the article. There are little things that you can change to improve the readability of the paper. And then I will proofread it. I have to be very meticulous. I also format it for submission to a particular journal if they ask for that. I'm loving it. It's going really well. There's been a little bit of a hurdle to get the clients but that's starting to pick up now and I'm starting to get busy.
Before this you were a health and medical researcher with a PhD at Monash. What was your research area?
My research area was in structural immunology. I was looking at crystal structures of proteins involved in our immune system. My PhD was on organ transplant rejection and graft versus host disease, and trying to understand at the molecular level how that all happens. Structural biology was my training.
When did you become interested in roles in health & medical research field outside of the traditional academic career?
That's a tough question! (Louise: was it something that developed over time?) Yeah, I don't think there was just one point where I thought that I was going to leave the traditional path. I think there were a lot of factors that came into it. It took me years to make that decision that I was going to leave academia and I tried different things. I was looking into patent law. I was looking into clinical trials. I was even going to become a psychologist. I realized that I still loved the science. I just didn't like the lab work and I didn't like the system, the pressure to get grants and to perform at that high level. It was really affecting my overall health. I decided that I needed a bit of a change. I tried my hand at science communication for a little while at IMB (Institute for Molecular Bioscience at the University of Queensland). I was writing media releases or doing a live twitter feed, and updating the institute's website. That job taught me so many new things and different skills. And I think that gave me the courage to start this new business. I realised it's the writing that I really love.
Did you need to get additional qualifications or do any work experience in this area before you made the jump to being a freelancer medical editor?
I did get qualifications. I think that they've been useful. I did a graduate certificate in editing and publishing through USQ (University of Southern Queensland). I was studying on nights and weekends while I was working full time, which was tough. I basically had no life for two years! But I think having that qualification has opened doors for me. People could see that I was serious about wanting to go down this path and try something else. I learnt a lot through the course as well. I learnt how to actually edit properly.
I also did science communication for six months. I think that placement has been good on my CV since starting this freelance job. People can see that I have written articles. I have done media releases. So I now have those additional skills.
Do you think your lab based training providing you with skills or qualities that you called upon in your new career?
Definitely. I mean, in what I do now, I really have to understand the science and how a research paper is written. I think, in science, you don't just do one experiment. You've done a range of different experiments and you know all of these different techniques. You are able to read a method and understand it. You need that to be able to edit the manuscripts of a whole variety of areas. I now even edit manuscripts about surgery, so it's outside my field but I still understand the scientific process. I think these sorts of skills came from my lab training. Also, as a scientist, you are self-motivating and you really need that when you start a business.
Can you tell us what is your favourite thing and most challenging thing about being a freelance editor?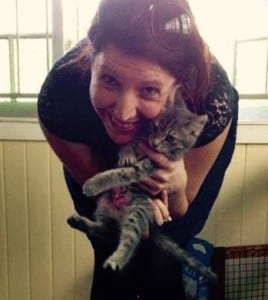 My favourite thing is the freedom, the freedom to run my day as I want. I think for me, as an introvert, I found it challenging to go and be around people all day. For me, I work best alone so I enjoy working from home. But I make sure that I do see people otherwise I think I'd go crazy (although I do get to hang out with my cat a lot!). I can also travel with my partner when he travels for his work. We were just in the USA for a while. Really, I can work from anywhere now. All I need is my laptop and the internet.
The most challenging thing has been the finance side for me. It has been a big learning curve. How do I quote for a job? How do I make sure that I get paid? How do I budget all of my finances because I don't get paid regularly. I might get paid once a month for certain jobs. You may be busy for a time and then not have work so you have to factor in all of those sorts of things.
Do you have advice for a researcher who is interested in a career in medical science writing or editing?
Yes. There are a lot of online editing companies that you can apply to work for as a freelancer. I think you should do that while you are still working as a postdoc or doing your PhD to see if you like it. And you can do that without doing too many hours. You just tell them you only have four hours on a Saturday to do some editing work. I would suggest doing that for a while to see if you actually like it and if you can see yourself doing it long-term. That way, you will get the experience and the companies will be able to give you references to move into this area. There's not a lot of work out there, but I think if you are passionate about it then you will get repeat customers. So hang in there if you do enjoy it.
Any career or life tips + tricks you have picked up along the way?
The hardest thing has been: If I'm not a scientist, who am I? And when people ask me what I do, I still say, "I was a scientist." I spoke to (Professor) Jenny Martin (from IMB at UQ) about this and she said, "No, Julia, you still are a scientist. You will always be a scientist." And I think that is true. I love science and this job is working really well for me because I still get to read about science. So I feel like I'm still involved and I make use of my science background. It's just that this career fits me better. I think that when you do make that decision and realise that there is a life outside academia, it's important to remember that you're not a failure for changing. You have to tell yourself that you did not fail and that you are happier because of what you are doing now.