Our roving reporter Dr Louise Randall spoke with award winning science teacher, Sharon Williams, to learn about her career journey, what she loves about being a science teacher and tips if you are thinking about a career in teaching.
Louise: You've received an Outstanding Teacher of Science Award. Congratulations! Could you please tell us about your science background before you got into teaching?
Sharon: At the risk of sounding nostalgic, my love of science began as a child. I remember watching The Curiosity Show on TV every week and there used to be little 'Why is it so?' snippets on television. I was drawn to understanding how things worked. I went to a state school in Townsville that had an elective subject in year 9 and 10 called Science, Research and Technology for those kids who really love science. It was great, but for some reason I never thought I was going to be a scientist, rather I was thinking about physiotherapy. But we had a family tragedy in my final year of school and I couldn't bear to move away to study physio and I actually enrolled in Biotechnology degree. I gravitated away from human research as I met too many stressed 'wannabe doctors' and took a few more plant science subjects. By the end of my degree, I'd majored in Plant Biotechnology and Biochemistry. I went on to do a honours project on MADS box genes, which are genes that are involved in switching plants from vegetative to reproductive growth. After honours I didn't feel ready to commit to a PhD without knowing the research area that I loved. So I applied for a job doing tissue culture and genetic engineering in sugar cane at the University of Queensland and then began working on a research project for the next 3 years. This period was a good time to improve my research and technical skills as I looked for the area that I wanted to be an expert in.
Louise: So at what point did you realise you had an interest in teaching and start on the journey to becoming Upper School Science Teacher at Goodna State School?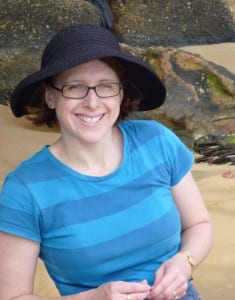 Sharon: It was the unpredictability of grant funding that made me start thinking about teaching. One year there wasn't enough money to fund my position full time so I thought, "Well, I'm pretty good at explaining things, I might as well start an education degree". My husband was also studying part time so we thought it would be perfect as we could both be in the books at night after work! I completed my Bachelor of Education whilst working part time in research and lab management/technical officer roles. I also decided that I was ready to have some babies (just to add another thing into the mix). Over this time I began to become a little disenfranchised by the distance between the doing of science and seeing its impact - I really wanted to see in front of me the impact of my work so teaching began to become more appealing. I finally resigned from the University of Queensland in 2013 and put my hand up to do relief teacher work at local high schools around Goodna, where we had just moved (and still are today). Although I was trained in secondary school science I often thought that I'd love to teach younger kids. Fortunately my first contract was to replace the Specialist Science teacher for 4-weeks at the primary school where my children were studying. The school and the teachers were so great that we proposed that I stay and help take their specialist science program to all the year levels. We now have two specialist science teachers at Goodna State School and I teach year 4 to 6. I ended up with the dream job that catches the age group that I love and the content that I enjoy and the students that I am passionate about reaching. Now I can see the impact of what I do every day.
Louise: You have invited scientists and artists to interact with your students. How does this change the education experience for your students?
Sharon: The best excursion we had was with Davida Allen (Archibald Prize winning artist). We had two guest environmental scientists show a select group of Year 7s how to walk through bushland that's being reclaimed in Ipswich by looking for animal tracks, droppings and burrows. After their walk students painted the landscape they experienced on this massive canvas that went 30m down the bush grassland. Davida crawled across the paper like a wombat and suddenly started throwing water on the children's work (representing searching for food), forcing them to adapt their works again.  You watched the children go from this boxed world of thinking, which happens in the classroom, to spreading paint all across this giant canvas as they became more free and creative. It was really powerful for them to think more broadly and outside of the box, which I think scientists need to do and this artist was able to help us to illustrate. I really enjoyed that excursion.
When we've had academics come and present at the school it has done two things: it expands their exposure and inspires them. There are not a lot of children at our school who have parents with tertiary education degrees and we have a lot of parents who didn't have a positive experience at school. There are kids whose worldview doesn't include further education. When we bring in academics into the program, the children see that they are regular everyday people who can communicate their scientific ideas to the students. I think it starts to open up their worldview. That is one of the reasons why I make this happen. After one of the visits we had last year, one of the girls in year 6 told me, "Mrs Williams, I think science is it for me." I didn't pick that in her, I didn't see that in the classroom. She was inspired and that is exciting.
Louise: What is your favourite and most challenging aspect of your job?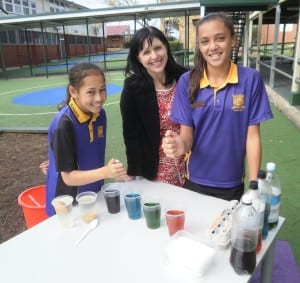 Sharon: My favourite part of my job is the 'Ah-ha' moment. When you are doing a demonstration or a child is doing an experiment, or you are linking the theoretical concept with something they are going to do physically, the class goes "Oh, that links up with this! I get that now!" I just get a thrill from that sort of stuff. The most challenging will probably be what most teachers say - behavior management. When there is a child whose home circumstances or their abilities/ disabilities, their lack of opportunity or lack of security, can mean that they do not have a lot of resilience or coping skills. You have to learn to not just be a teacher of science but also take the opportunity to make those interactions and learning opportunities for the children to become better individuals. That can be challenging at times but that is more of a long-term view. So, when you have successes in these situations, they are small wins along the way as well.
Louise: Did you need any additional qualifications to become a school science teacher?
Sharon: To be a high school science teacher you need a degree in science, usually, and then you do a Graduate Diploma in Education and that's been the way it has been for a long time. During the 6 years of my studies they swapped it to a 2-year graduate entry bachelor. They changed it back just as I graduated. I could've been finished in 9 months but I think it suited me to do more subjects. I think the scientific way of thinking is very important and very helpful but I also needed to step out and think about how psychologists and sociologists look at education. For example, how you write an essay that encompasses the educational journey of a child while going through developmental stages in their child psychology. I had to think differently for a while to become an educator.
Louise: What do you think are the benefits of being a teacher with previous science training? Are there any transferable skills?
Sharon: There are definitely transferable skills from research to education. By far the main advantage is that I unconsciously analyse information through the scientific method and think critically. I can also unpack how to do that for children. And of course, specialist knowledge in science is essential in high school science and helpful in primary school science. It gives the content focus on what is really "science" compared to what is just a cool demo without any reasonable explanation. Scientists are good communicators, have skills in many forms of media and digital resources, are good problem solvers and can work to a budget, that are all transferable skill sets to teaching. However, fundamentally, good teachers love their content area AND their students, not just one or the other.   
Louise: Do you have advice for other scientists who are thinking about moving into the education sector?
Sharon: The first year is very hard. Don't do it the same year that your family situation is very busy. There are a lot of incidental skills that you have to acquire as first year teachers. That's quite challenging. If you enjoy engaging with people, seeing them understand things and focusing their curiosity towards the structure of the scientific method, then education in science is really exciting. You have to be aware that you will step away from some of that creativity and independence that comes with research to some extent. You end up in a structured environment where the class bell dictates the start and finish. The really good educators are able to have a life outside of school and they bring creativity from whatever they do into the classroom. They become lifelong educators, I think. It's a blessing to me as a woman and a mother that I can work from home during the school holidays. I am going to do a lot of marking and writing lessons for next term but I can do that from home this school holidays and not have to organise where my children will be this next couple of weeks. It works for us really well and allows me to meet both my priorities of having a rewarding and successful career and being around my children as they grow.
If you want to connect with Shaorn she would love for you to drop her a line: thesharonbeth@hotmail.com