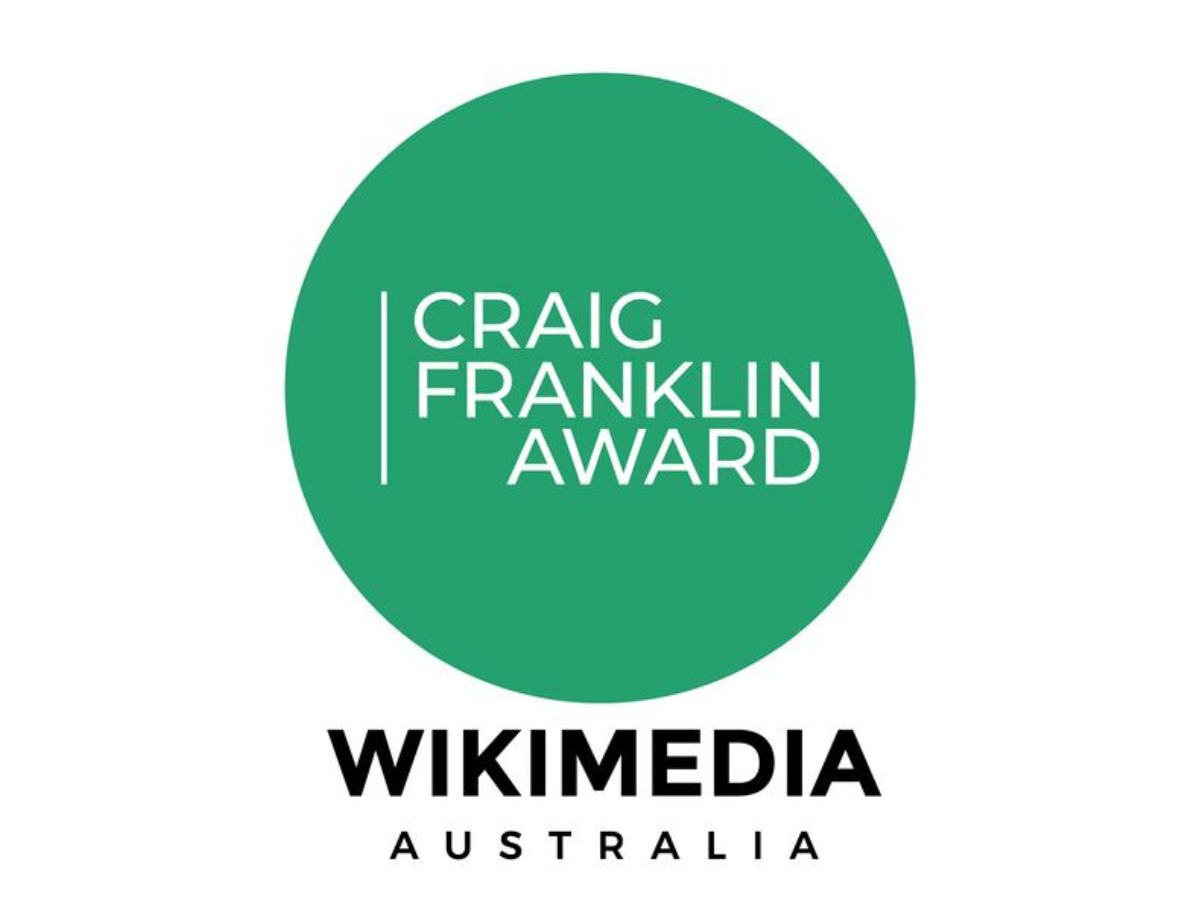 Sydney, Friday 18 August 2023
Franklin Women has received the inaugural Wikimedia Craig Franklin Award for their efforts to increase the visibility of women working in health and medical research online..
The award recognises the positive impact that Franklin Women, a grassroots social enterprise, has had on the Wikimedia movement in Australia through their series of live Wikipedia Edit-A-Thons and online tutorials.
Accepting the award on Sunday 6 August 2023, Franklin Women founder Dr Melina Georgousakis thanked the Wikimedia community for the recognition of the organisation's efforts.
"Receiving the inaugural Craig Franklin award is an absolute honour', said Melina It is humbling to think back to where we started on our Wikipedia journey, as absolute novices, and reflect on what we have achieved since."
After becoming aware of the gender imbalance on Wikipedia, where only 19% of biographies are about women and 15% of Wikipedia editors are women, Franklin Women partnered with biopharmaceutical company AbbVie Australia to run two Wikipedia Edit-A-Thons in 2019 and 2022.
Nat McNeil, Vice President and General Manager, AbbVie, Australia and New Zealand, commented,
"It is terrific to see that Franklin Women has been recognised for the part they have played in elevating the visibility of women who have made remarkable contributions to science. We are proud to have been able to support this initiative from the beginning which has allowed us to celebrate diversity and advance equity – something that AbbVie remains deeply committed to."
Over the course of the two events, 80 women came together to learn the skills required to edit Wikipedia and collectively added more than 100 000 words of notability for Australian #WomenInSTEMM including 51 new Wikipedia pages.
Franklin Women went on to launch More Than a Day in 2023 a series of video tutorials that have empowered people around the world to edit Wikipedia. The videos developed with The Leadership Film have been watched more than 2,000 times and have become an important online resource for beginner editors.
'We would have not achieved what we have without our partners who brought their individual experiences and expertise to our Wikipedia initiatives so they could have the greatest impact', said Dr Georgousakis.
Wikimedia Australia President Amanda Lawrence commended Franklin Women for their ongoing contributions to advance the Wikimedia movement.
"It's through the work of organisations like Franklin Women that we meet new communities we otherwise might not be able to engage with."
The projects run by Franklin Women have made fantastic achievements, and we'd like to thank them for their work introducing women to editing Wikipedia."
Franklin Women
Franklin Women is Australia's only professional community dedicated to supporting the careers of women working across the health and medical research ecosystem.
Learn more and become a member here
Craig Franklin Award
The Craig Franklin Award has been created in honour of Craig Franklin, a prolific Australian Wikipedian and founding member of Wikimedia Australia, who died in 2018.