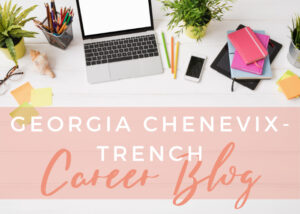 Meet Prof Georgia Chenevix-Trench, Head of Cancer Genetics at QIMR Berghofer and 2022 winner of the GSK Award for Research Excellence. Here she talks about the impact of her research and why fellow medical researchers should consider nominating their peers for the GSK Awards (nominations close on June 16 2023)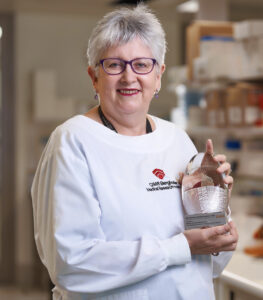 What is your current role and how did you get to be there?
I did my undergraduate degree in Trinity College Dublin, and then went on to do a PhD at the Medical College of Virginia in the USA. I then moved to QIMR-Berghofer in 1986 because my husband was offered a job here, and have been here ever since, working my way up the NHMRC and QIMR-B ladder. I was a member of the Director's Consultative Committee as the Coordinator of the Department of Genetics and Computational Biology until recently when the Department was disbanded in a restructuring of the Institute. 
I became independent very early, because QIMR-B was so small back then that there was really no one with my interests with whom to do a post-doc. My first grant was from the Queensland Cancer Fund in 1988 when I think all you had to do back then was put 'cancer' and 'genetics' into the same application and they were highly likely to fund you! It was more difficult to get my first NHMRC grants, but I managed that in 1990, in part because someone who had interviewed me the year before broke the rules and let me know that I needed to make my applications much simpler, and less ambitious. I've always wondered since why NHMRC doesn't encourage such direct feedback, as is provided on NIH applications. Apart from my husband, I didn't really have a mentor until Joe Sambrook moved from the USA to the Peter MacCallum Cancer Institute. We started working together in 1995 to form the national consortium, kConFab (the Kathleen Cuningham Foundation Consortium for Research into Familial Breast Cancer), and Joe was enormously helpful in many ways since he always gave totally honest and blunt opinions, softened with a twinkle in his eye.
What do you think is your most important contribution to the research field and what impact did it have on the health and lives of people?
In terms of the number of people impacted by my research, I think I'd nominate our finding some years back that mutations in the ATM gene confer a moderate risk of breast cancer. Since then, clinical testing for these mutations has been adopted around the world, and is routinely performed in thousands of women with a family history of breast cancer, including in Australia.
How do you think winning the GSK Award for Research Excellence in 2022 will impact your research?
It has already impacted my research! We used it to buy a critical bit of equipment to monitor cell growth in real time, and this has hugely expedited our ability to validate breast cancer risk genes that we have identified, that we think work through altering the ability of the immune system to destroy nascent breast cancers.
Based on your experience, why would you encourage fellow medical researchers to nominate their peers?
Absolutely – it is a great honour to get this award, and affirmation by one's peers is such an encouragement. Research, in particular getting research funding, is never easy and so the financial support is wonderful, but the affirmation probably even more so. It is probably true that women don't tend to put themselves forward for recognition as often as men, so it is very important to give them that recognition. 
What are your interests outside of work?
Gardening, dogs, walking, gardening, reading, classical music, travelling and gardening!
What is one piece of advice you could pass onto others following their own career in health and medical research sector? 
If you are a woman, and want children, pick your partner carefully, and get a cleaner (even if you have to borrow money to do so). Also, get home early enough to eat dinner with them!