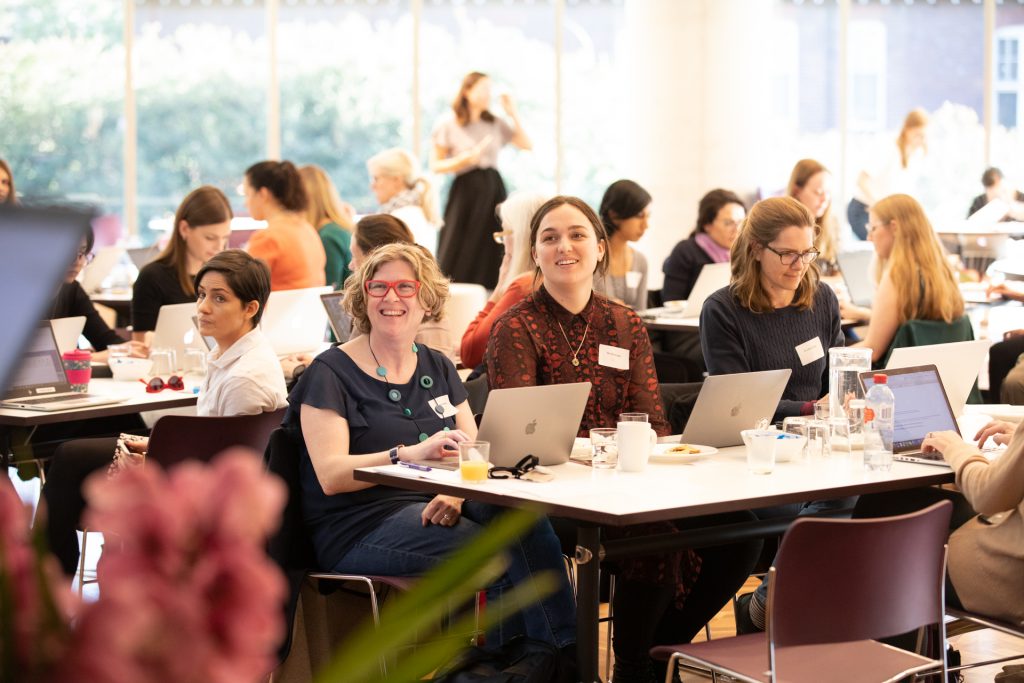 Sydney, Thursday 7 April 2022
Women working in the health, medical and life sciences sectors will take to their keyboards on World Health Day to increase the visibility of women in science on Wikipedia, combatting gender bias on the online encyclopaedia.
Only 19% of all profiles on Wikipedia are about women1. The Wikipedia Edit-A-Thon is part of an ongoing global movement that aims to ensure Wikipedia is more representative of diverse talent in STEMM and their contributions to society. Participants will add and update pages to include the achievements of health and medical researchers who are women.
This is the second time that Franklin Women – a social enterprise that empowers women pursuing careers across the health and medical research sector – and biopharmaceutical company AbbVie Australia join forces to host the event on Thursday 7 April 2022.
Dr Melina Georgousakis, founder of Franklin Women, says the success of their first Wikipedia Edit-A-Thon highlighted how important grass roots events like this are to increase awareness of gender bias online, but also to drive momentum towards change.
"Two and a half years have passed since our first Wikipedia Edit-A-Thon and while more than 70,000 new Wikipedia profiles have been added for women over this time, women still only account for around 19% of profiles on the global encyclopaedia," said Dr Georgousakis.
"Addressing gender bias on Wikipedia is not just about equity, it is also about ensuring that scientific discoveries and their impact on society are accurately captured. When people search for information online, Wikipedia is usually among the first results that appear and as such it plays a big role in informing people on the history of science and the role of women and other under-represented groups in the field," said Dr Georgousakis.
"Even though scientific discoveries made by the late Rosalind Franklin, the UK researcher after whom Franklin Women is named, were crucial for determining the double-helix structure of DNA, her contributions went largely unrecognised. Rather, it was her male colleagues who received the accolades and went on to be awarded the Nobel Prize after her death. Now Franklin's work is celebrated globally. This is the change we want to effect and the time is now," she said.
Chris Stemple, Vice President and General Manager of AbbVie Australia and New Zealand, believes it is crucial for organisations across the health and medical research sector to support impactful, grassroots initiatives like the Franklin Women Wikipedia Edit-A-Thon.  
"With a second iteration of the Wikipedia Edit-A-Thon, we're thrilled to play a part in elevating the visibility of inspiring women who have made remarkable contributions to science, and who continue to pave the way for the scientific breakthroughs of tomorrow," said Mr. Stemple.
"As a company committed to celebrating diversity and advancing equity, we are proud to support this event as a step towards ensuring our colleagues, researchers and industry leaders are recognised for their work regardless of gender or other characteristic," he added.
Another outcome from the Franklin Women Wikipedia Edit-A-Thon is providing an opportunity for women to learn how to contribute to the platform. Just 15% of the people who actively contribute content to Wikipedia identify as women1. Encouraging women to become Wikipedia editors is key to longer-term change to make platforms more representative.
Following the successful model of the 2019 Wikipedia Edit-A-Thon, this year's event will see participants receive full training and support from experienced Wikipedia editors so they leave feeling empowered with the skills to continue editing Wikipedia after the event.
To further build this impact, this year's event also includes a dedicated 'Article Aftercare' session. The follow-up workshop will reconnect participants with experienced Wikipedia editors to reinforce their confidence in autonomous editing of articles and ensure they are able to make longer-term contributions, if they choose.
For live results from the Wikipedia Edit-A-Thon for Women in Health and Medical Research, as they happen, visit https://franklinwomen.com.au/wikipedia-editathon/
Join the conversation on social media using the hashtag #FWOnWiki or tagging @FranklinWomen and @AbbVie_AU on Twitter.
References
Wikimedia Foundation. Facts about the gender gap and how you can help close it, 2022. Available at https://wikimediafoundation.org/our-work/project-rewrite/#a1-about-project-rewrite